Cardinals add two pitchers and a catcher to 40-man roster ahead of Rule 5 protection deadline
St. Louis added Sem Robberse and Adam Kloffenstein, both acquired for Jordan Hicks at the trade deadline, as well as catcher Pedro Pages, to the 40-man roster Tuesday.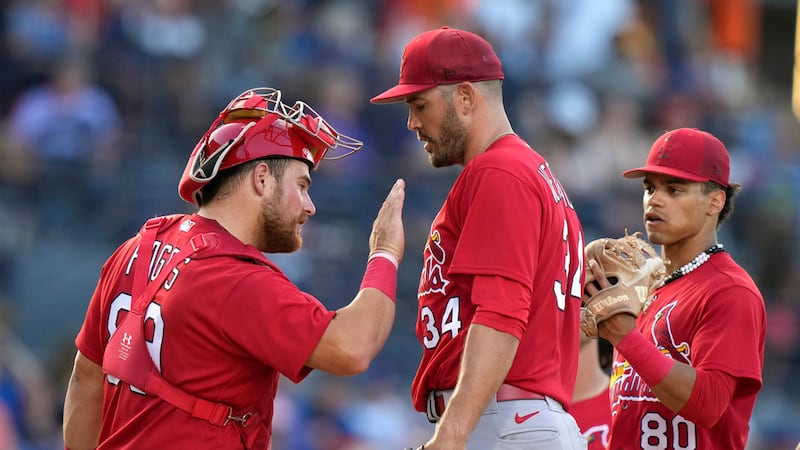 Published: Nov. 14, 2023 at 2:36 PM CST
ST. LOUIS, Mo. (KMOV) - Hours ahead of the deadline to protect eligible players from the Rule 5 draft pool, the Cardinals announced a series of roster moves and additions to the 40-man roster.
St. Louis has selected the contracts of catcher Pedro Pages, as well as pitchers Sem Robberse and Adam Kloffentstein. Adding the trio to the 40-man roster ensures they are protected from selection in the Rule 5 draft., which will take place on December 6 during the MLB Winter Meetings in Nashville.
To make room on the 40-man roster for Tuesday's additions, LHP Packy Naughton and RHP Wilking Rodriguez were outrighted to Triple-A Memphis. Rodriguez has elected free agency.
LHP Connor Thomas was designated for assignment and will need to clear waivers in order to be retained by the organization.
Robberse and Kloffentstein, both right-handed pitching prospects, were acquired for Jordan Hicks in a deal with the Blue Jays ahead of the August 1 trade deadline. Both pitched in Triple-A Memphis over the final months of the season and should enter spring training looking to make an impression for a potential big-league opportunity in 2024.
The addition of Pages was an interesting one for the Cardinals considering he stands now as the team's fourth catcher on the 40-man roster, joining Willson Contreras, Andrew Knizner and Ivan Herrera.
Knizner is due to earn a projected salary in the neighborhood of $2 million in 2024 as an arbitration-eligible player. The Cardinals will need to tender him a contract before Friday's non-tender deadline in order to retain him in the organization.
As four catchers on the 40-man is generally considered superfluous, some would speculate that Pages' addition is a signal that the Cardinals could look to non-tender Knizner (which would make him a free agent). That line of action would be surprising from the team given Knizner's reasonable projected salary combined with his increased offensive production and general value to the continuity of the catcher position in St. Louis last season. Knizner hit a career-best 10 home runs last season in 70 games for St. Louis.
The Pages move, though, could signal a move of some sort on the catcher front as Herrera took a step forward this past season, showing enough productivity at the big-league level to suggest his readiness for a consistent role on the MLB roster. Due to years of control and salary implications, Herrera would figure to have more trade value than Knizner at this stage, but it remains to be seen how the Cardinals will proceed.
The general uncertainty of the path forward for the club's catcher depth may have helped inform that decision to cover their bases and prevent other clubs from snatching up the 25-year-old Pages in the Rule 5 draft. Although Pages was left unprotected for last year's Rule 5 draft and was not selected, the defensive stalwart took a step forward at the plate with a .806 OPS in Double-A Springfield last season.
Copyright 2023 KMOV. All rights reserved.