Mizzou RB Cody Schrader earns SEC Offensive player of the week honors
The Lutheran South grad shredded the South Carolina defense for 159 yards and two touchdowns in Saturday's Homecoming win for the Tigers.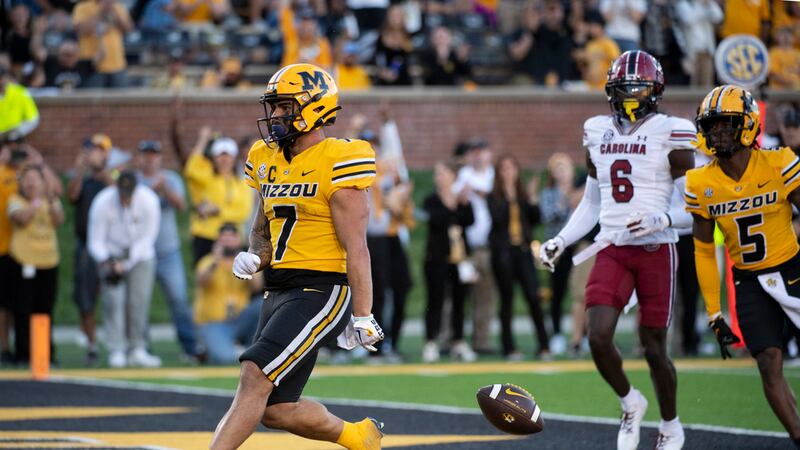 Published: Oct. 23, 2023 at 2:04 PM CDT
ST. LOUIS, Mo. (KMOV) - He belongs.
That was the headline of the tweet posted by the Missouri Tigers football account Monday afternoon as it announced that senior running back Cody Schrader, a St. Louis native who transferred to Mizzou from Truman State before the 2022 season, has been named SEC Offensive player of the week.
Schrader posted a career day for the Tigers in the Homecoming win over South Carolina, running for 159 yards and two touchdowns to pace the team in a 34-12 win. The Tigers improved to 7-1 with the victory, earning them the No. 16 ranking in the latest AP Poll.
A graduate of Lutheran South High School in 2018, Schrader took a circuitous route to fulfilling his dreams of playing at the highest level of college football at Missouri. Schrader began his collegiate career at Truman State, where he led NCAA football in rushing in 2021. That season at Truman, Schrader racked up 2,074 rushing yards and 24 touchdowns to propel him into the opportunity to walk on at Mizzou.
His winding path to Columbia has left Schrader with no shortage of motivation.
"For me, individually, it's proving myself right," Schrader said at the postgame podium Saturday. "I believed in myself throughout my entire football career. I feel like, besides my family and friends, everybody has kind of counted me out.
"Every time I touch the ball, I gotta make the best opportunity that I get with the ball each time. Just to continually prove myself right that I do belong here. I do belong in the SEC. I do belong as one of the best running backs in the country."
Schrader currently leads the SEC in both rushing yardage (807) and rushing touchdowns (nine) on the season.
From a walk-on contributor to a team captain and starting running back during this current campaign, Missouri's Cody Schrader is making his presence known as one of the best individual stories on a compelling Missouri team.
Copyright 2023 KMOV. All rights reserved.