Up there hackin': Adam Wainwright gets to bat in lopsided game Friday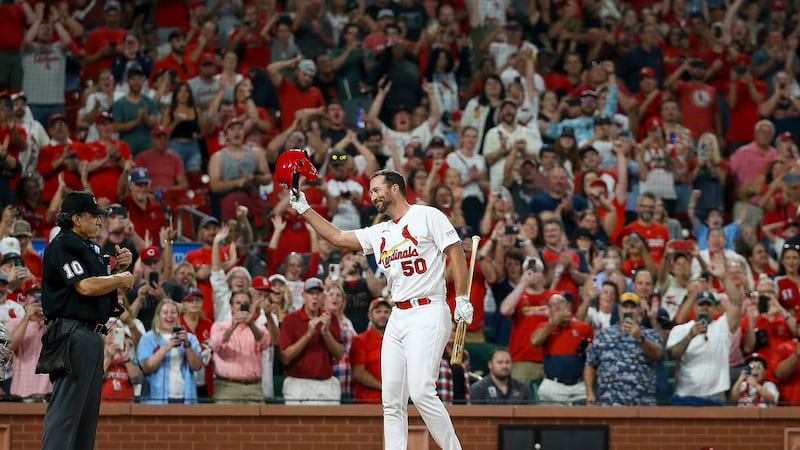 Published: Sep. 29, 2023 at 9:35 PM CDT
ST. LOUIS, Mo. (KMOV) - Cardinals manager Oli Marmol had said that the visiting Cincinnati Reds would have to be eliminated from postseason contention before he would consider sending retiring pitcher Adam Wainwright up to the plate to take an at-bat during the final weekend of the 2023 season.
But when he said it, Marmol probably wasn't anticipating that the Cardinals might be eliminated from contention for Friday night's game before the middle innings rolled around. But the Cardinals trailed 14-2 in the sixth inning as they lumbered closer to the finish of a troubling season, so Marmol gave Wainwright the green light: Grab a bat, kid.
Wainwright, who took batting practice on the field at Busch Stadium on Friday afternoon, was announced as the pinch-hitter for designated hitter Luken Baker in the bottom of the sixth inning. The fans that stuck around to see the latter innings of the blowout were treated to Wainwright taking a pair of vicious hacks against Reds starter Brandon Williamson.
When the 42-year-old veteran was just a 24-year-old rookie, Wainwright swung at the first pitch he ever saw as a big-league hitter, launching it for a home run in San Francisco on May 24, 2006. Friday's result didn't match that feat, but the process was the same: Wainwright took a healthy cut on a 93-mph fastball on the first pitch he saw from Williamson, fouling it straight back with some authority.
A day beyond two years since he last stepped into a batter's box in an MLB game, and Adam Wainwright was first-pitch swinging.
He swung at the next pitch, too, grounding one back up the middle to end the exciting sequence of events at Busch Stadium.
It's been a mostly sour year for the Cardinals, but even in the midst of another unfortunate outcome to the game on Friday night, Uncle Charlie provided the fans with something sweet.
Copyright 2023 KMOV. All rights reserved.