Missouri Congressman among those who blocked GOP measure to keep government open
Rep. Eric Burlison votes with 20 other Republicans to block continuing resolution BODY: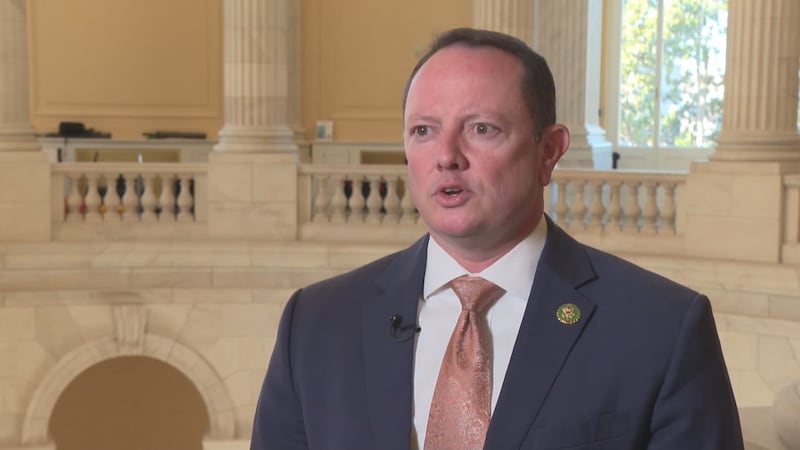 Published: Sep. 29, 2023 at 6:24 PM CDT
JEFFERSON CITY (KMOV) -- Freshman Congressman Eric Burlison, a Republican representing Missouri's 7th district, was among 21 Republicans who voted with Democrats against their party's continuing resolution, a measure that would have kept the federal government funded past Saturday and temporarily avoided a shutdown.
"Failing to pass appropriations bills and instead opting to kick the can down the road. I refuse to play that game." Burlison posted on social media Friday. "Continuing Resolutions with long lead times allows the House to shirk responsibility until it becomes politically toxic to do anything but pass massive spending bills written by leadership no one has time to read."
"We have a group of individuals who, because Republicans in our house have a very slim majority, are trying to leverage that slim majority to get more of what they want – I would I would argue at the expense of everybody else," Rep. Blaine Leutkemeyer, R-Missouri. "It's pretty difficult with people who are not here for the right reason, which is to govern where the majority of Republicans, but people gave us the tools to do that. And we need to take advantage of this."
Rep. Mark Alford, another Missouri freshman Republican, said he doesn't want to see the appropriations bills authored by the Senate, which is currently controlled by Democrats.
"We are not going to have an omnibus bill, we're going to vote on these appropriation bills separately. I'm taking [Speaker McCarthy] at his word, but my line in the sand is 30 days for this continuing resolution and then after that, come Halloween, we got to figure something out," Alford said.
While Missouri's two Democratic delegates, Reps. Emanuel Cleaver and Cori Bush, voted against the continuing resolution, Cleaver said a government shutdown will be damaging to the country.
"I know some of my colleagues who are MAGA Republicans believe they're doing the right thing," said Rep. Emanuel Cleaver, D-Missouri. "They're trying to get the country out of a hole by digging a bigger hole. And I think that we are going to end up, on Saturday, unless something dramatic happens, in that hole."
The 78-year-old Congressman noted that most of the GOP is against the idea of a shutdown.
"The majority of the Republicans do not want to shut the government down, they want to work with us," Cleaver said. "But they realize that if they do, they're going to get a primary. And because of the fear of a primary, they're going to go along with a small group of people who I think are outside, maybe way outside, the mainstream of American life."
Funding for the federal government expires at midnight Saturday.
Copyright 2023 KMOV. All rights reserved.