Local leaders call for change as issues continue to plague St. Louis City Justice Center
Published: Sep. 1, 2023 at 6:50 PM CDT
ST. LOUIS, Mo. (KMOV) - With two inmates dying within the last two weeks at the St. Louis City Justice Center, some elected officials are calling for more reform and more transparency.
Family confirmed to First Alert 4 that the detainee who died at the CJC on Thursday was Terrence Smith.
First Alert 4 obtained court documents that show in April, Smith reportedly fell from the top bunk of his cell and suffered several injuries, including upper extremity weakness, impaired mobility, cord and spinal issues and several other injuries.
Smith was then medically released from the jail to get treated for his injuries after medical staff there said in a letter that the CJC staff couldn't help with the day-to-day care and rehab he needed.
Alderman Rasheen Aldridge is new to the Board of Aldermen but says he sees issues with the way the Detention Facilities Oversight Board is run.
"We need to get to the bottom of this like ASAP because no one else needs to lose their life," Alderman Aldridge says. "No other worker needs to be scared to go to work."
That's why he, along with other aldermen, is proposing new legislation to expand what the oversight board is able to do.
"Trying to figure out how do we fix the legislation because clearly they're not being granted access into these facilities," Alderman Aldridge says. "We're looking at ways where the legislation works so they can go in and be an extra set of eyes."
It's essentially what the oversight board was set up to do more than a year and a half ago after riots at the CJC drew national attention in 2021, where inmates broke windows and set fires in the jail.
First Alert 4 has reported on problems at the jail for years, including issues with faulty locks.
Chairperson Reverend Darryl Gray says constant roadblocks have stopped them from actually giving oversight.
"We can't get to the truth because you can hold the investigation off for months and for years, and then we as an oversight entity are not able to provide oversight and get to the truth to make recommendations so maybe we can save a life," Reverend Gray says.
Within the last two weeks, two inmates have died at the CJC. Within the last two years at the jail, nine detainees have died.
"From what I'm seeing, it's the injustice center right now," Reverend Gray says.
But Reverend Gray says it's not just inmates facing safety concerns.
"You're putting one correctional officer in a ward or in a pod with 30, 40, 60 detainees," Reverend Gray says. "You're putting correctional officers and detainees at risk when you don't have enough officers to manage, to watch."
Also, within the last two weeks, a corrections officer was held hostage at the jail by inmates.
Now, members of the oversight committee are calling on Commissioner of Corrections Jennifer Clemons-Abdullah to resign.
"The management of the facility is inept," Reverend Gray says.
Alderman Aldridge says although the current legislation had the right idea, some of the language needs clarification to allow the oversight board to do more.
"Right now, what we have is a transparency issue," Alderman Aldridge says. "It's no reason that the board should be able to get in unless you're trying to hide something, which is a transparency problem."
The St. Louis Board of Aldermen President, Megan Green, issued a statement Friday following the death at the center.
"Nine deaths in two years—two within two weeks—is appalling. This level of neglect and misconduct requires an immediate change in leadership at the City Justice Center (CJC) and greater oversight of our correctional facilities.

"These deaths are inexcusable; individuals at the CJC—who are awaiting trial and legally innocent until proven otherwise—have rights. CJC residents should have basic necessities, proper medical care, and the right to due process. Awaiting trial should not be a death sentence.

"The Detention Facility Oversight Board (DFOB) was created to bring transparency to our correctional institutions after years of reported abuses. The establishing ordinance has been interpreted by the city counselor's office in a way that has prevented DFOB members from holding the City Justice Center and its leadership accountable. Requiring the DFOB to only access information through the city counselor's office—the same office charged with shielding the city from litigation—creates an inherent conflict of interest and obstructs the DFOB from providing effective oversight.

"My office and members of the Public Safety Committee will lend our support to the DFOB by updating ordinance 71430 this session. While that process will take time, we understand that an immediate shift toward transparency and accountability is needed across city government. We have to put the welfare and interests of the public first—and part of that is making sure they have access to information.

"Governance is a shared responsibility, and city residents cannot do their part if we keep them in the dark."
The Public Safety Committee of the St. Louis Board of Aldermen released a statement Friday following the most recent death at the jail, saying one death at the facility is too many.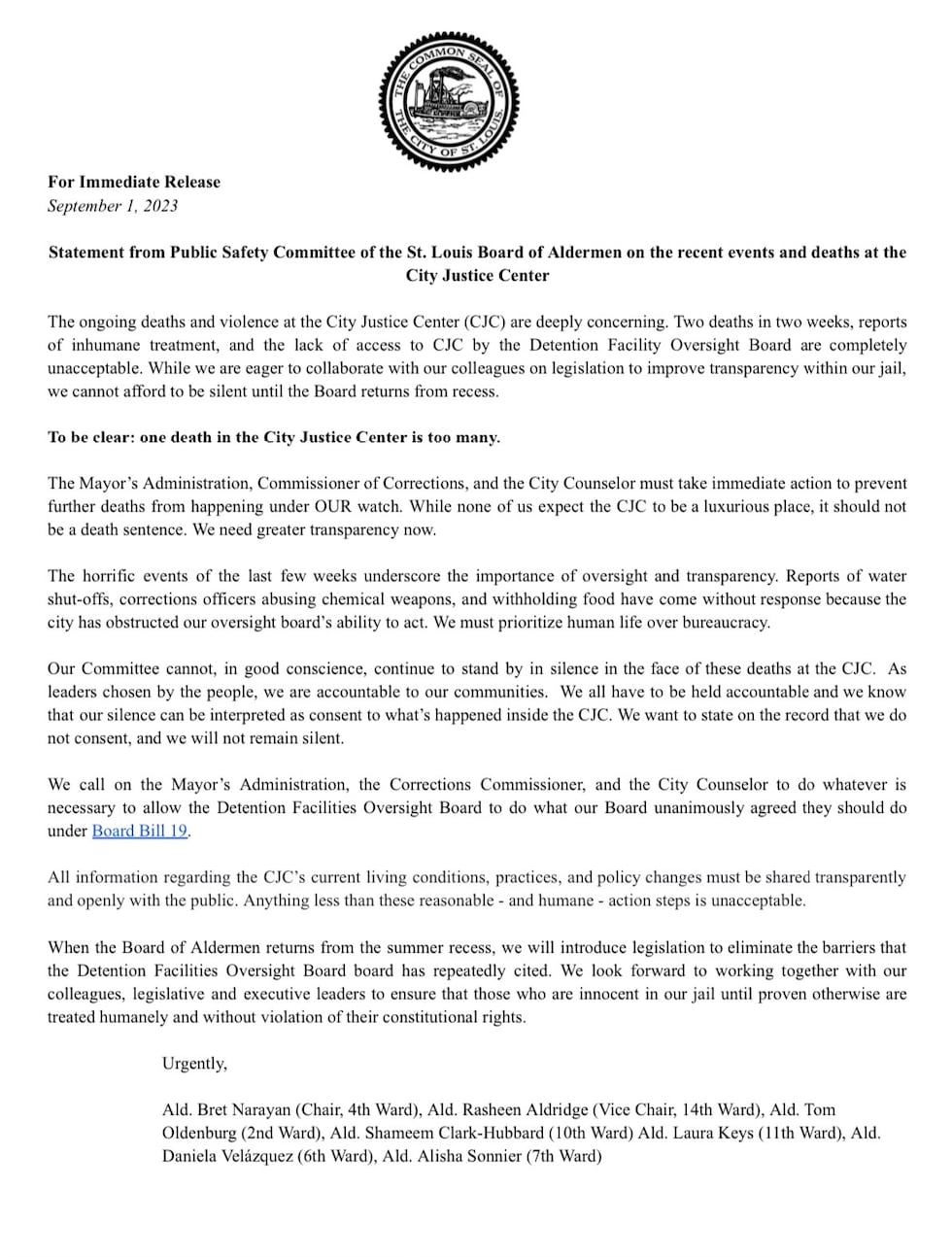 Copyright 2023 KMOV. All rights reserved.