Chiefs fans excited to return to Arrowhead Stadium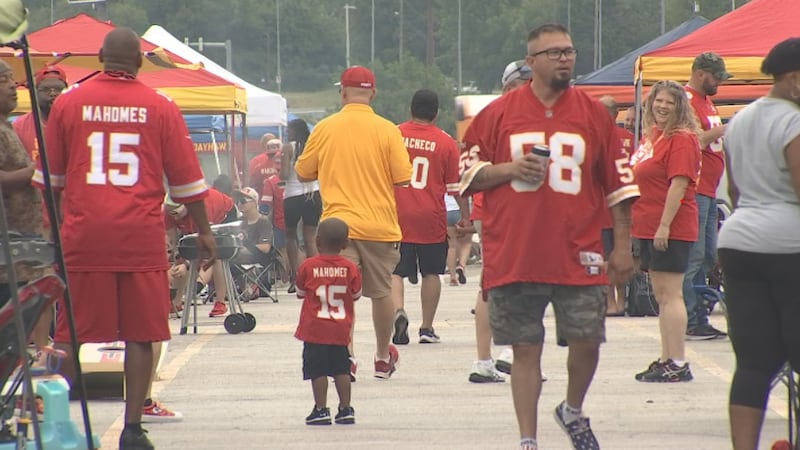 Published: Aug. 26, 2023 at 9:53 PM CDT
KANSAS CITY, Mo. (KCTV) - Chiefs fans returned to Arrowhead Stadium on Saturday for the team's first and only home preseason game. It was also the Chiefs final preseason game before the regular season begins.
"I believe to be a true fan, you have to come to one game," said Steve Early. "You got to."
Saturday's preseason game had an atmosphere geared to families.
"Family and Chiefs. I've never been to a game, she's never been to a game," said Tahnee, a Chiefs fan visiting from Minnesota with her mother and grandmother.
We got true Chiefs fans to come here. That's what this is. These are real Kansas City Chiefs fans
"This is my first time in Chiefs Kingdom," said Mark Urbanowski.
Fans had not been to a game at Arrowhead Stadium since late January -- when the Chiefs beat the Bengals for the AFC Championship. Gates opened Saturday morning at 7:30. Fans woke up early to be the first in the lot.
"I was up at 5:15 and called my sister at 10 minutes to 6 to see if she was ready," said Pamela Coburn.
"It's the atmosphere. It's amazing here. It's just electrifying. WE come here every time, every Sunday," said Kenny Johnson. "This is Kansas City, Missouri – the home of the Chiefs."
With the Royals interested in moving out of Kauffman Stadium, some fans are already thinking about what the Chiefs could do with the Truman Sports Complex to themselves.
We don't need a new stadium. We just need an update.
"They say they want to move the Royals stadium downtown, build something new. Ok, go for it," said one Chiefs fan. "Tear all this down and have them build a new thing for us, Arrowhead."
"I think they should consider the old, what they thought about years ago. Turn it into a dome," Johnson said.
Copyright 2023 KCTV. All rights reserved.