Andrew McCutchen homers as the Pirates beat the Cardinals and struggling Adam Wainwright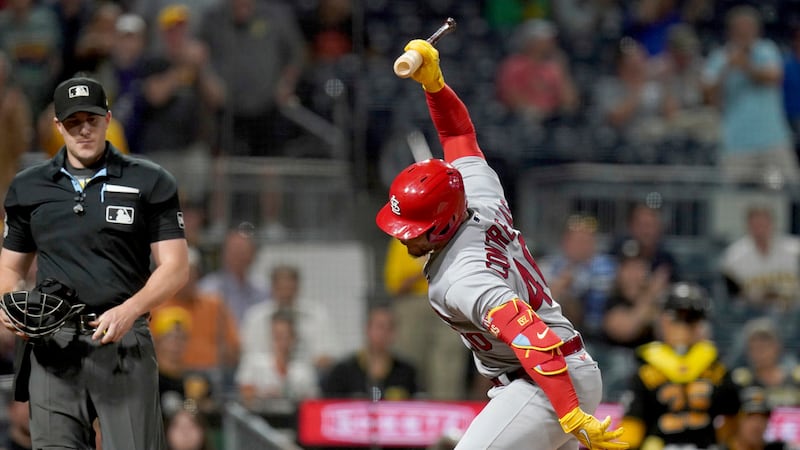 Published: Aug. 23, 2023 at 6:54 AM CDT
PITTSBURGH (AP) — Andrew McCutchen's two-run homer capped a five-run fifth inning against struggling Adam Wainwright, and the Pittsburgh Pirates beat the St. Louis Cardinals 6-3 on Tuesday night.
Wainwright remained stuck on 198 career wins a day after accruing his 18th year of major league service time. He is 0-8 with a 12.56 ERA in nine starts since his last victory on June 17 against the New York Mets.
"Getting 199 would be great. I need to get to 199 before I think about 200," said Wainwright, who plans to retire at the end of the season. "I thought today was going to be the day for sure especially after the way I started the game. I felt very confident we were going to win the game. I'm really disappointed. I was in complete control and let it get away."
Wainwright retired the side in order in the first three innings before Ji Hwan Bae walked to lead off the fourth and scored on Connor Joe's two-out single. The Pirates increased their lead to 6-1 with the five-run fifth that included a run-scoring groundout by Bae, a two-run double by Bryan Reynolds and McCutchen's homer into the left-field bleachers, the 299th of his career.
St. Louis catcher Willson Contreras and manager Oliver Marmol were ejected in the seventh inning for arguing balls and strikes, and rookie Jordan Walker was tossed in the eighth, his first career ejection.
The Cardinals lost for the sixth time in seven games and fell 2 1/2 games behind the fourth-place Pirates in the NL Central. St. Louis hasn't finished in last place since 1990, while Pittsburgh has done so each of the last four seasons.
"It's been a weird year. It's been a funky year," Wainwright said. "We haven't had a year like this since I've been here. I guess if you have one of these every 18 years, it's not a terrible ratio. But I know it's driving everyone in here crazy. I know it's driving me crazy."
Wainwright (3-9) was charged with six runs in 4 2/3 innings. He gave up seven hits, struck out three and walked one.
McCutchen is 26 for 83 in his career against Wainwright with four homers.
"I have nothing but respect for that guy," McCutchen said. "He's done it longer than I have. He's a competitor. He's going to compete every single time. No matter how many times we faced each other, he's been trying to give me his best stuff. I'm going try and return the favor as well."
Acquired from the Cardinals last season, Johan Oviedo (7-13) beat his old team for the first time in four tries. He allowed one run and four hits in five innings with five strikeouts and one walk.
"It feels amazing," Oviedo said. "I'm not going to lie. It feels great."
David Bednar worked a scoreless ninth for his 27th save in 30 opportunities.
The Cardinals' lone run off Oviedo came when Richie Palacios led off the fifth inning with his first career home run. A night earlier, Palacios' brother, Pirates outfielder Joshua Palacios, went deep in their first-ever meeting in the major leagues.
Contreras doubled in a run in the sixth and Alec Burleson's RBI single in the seventh drew the Cardinals within 6-3.
Joe had two hits in helping the Pirates win for the third time in four games. He hit three doubles a night earlier.
THREE CARDINALS TOSSED
Plate umpire Brennan Miller threw out Contreras and Marmol for arguing a called third strike with the bases loaded to end the top of the seventh.
Contreras drew a line with his bat in the batter's box after getting rung up, then slammed the bat to the ground and tossed his helmet in the direction of the plate. Contreras also briefly returned to the field after being ushered to the dugout but was quickly restrained by teammates before getting to Miller.
Marmol then got tossed for continuing to argue with Miller. It was the ninth career ejection for Marmol and the eighth for Contreras.
"He's competing and when you do your job, you want to be rewarded for it," Marmol said. "It wasn't one call or two calls, it was more than that by that point. You're (getting) the bat (taken) out of your hands. Everyone has a responsibility and Willson was doing his job. (Miller) missed a couple of calls at the bottom of the zone and it cost us."
Walker was thrown out for disputing a called third strike that ended the eighth.
TRAINER'S ROOM
Cardinals: LHP Matthew Liberatore (lower back tightness) was placed on the 15-day injured list after being hurt lifting weights and RHP Jacob Barnes' contract was selected from Triple-A Memphis. Liberatore returned to St. Louis to begin treatment. ... RHP Ryan Helsley (right forearm strain) had an MRI that showed no structural damage and will resume his rehab assignment with Memphis. ... OF Dylan Carlson (left oblique strain) had an injection in his left ankle, which has been bothering him since May.
UP NEXT
LHP Zack Thompson (2-5, 3.90 ERA) is scheduled to start for the Cardinals on Wednesday as they try to avoid a three-game sweep. RHP Luis Ortiz (2-3, 4.86) will start for the Pirates after joining the team Tuesday from Triple-A Indianapolis.
Copyright 2023 KMOV. All rights reserved.