After getting hammered Friday, the Cardinals send Naile to Memphis for fresh relief arm
After St. Louis fell 7-1 to New York Friday, Guillermo Zuniga gets the call from Triple-A to replace James Naile in the Cardinal bullpen.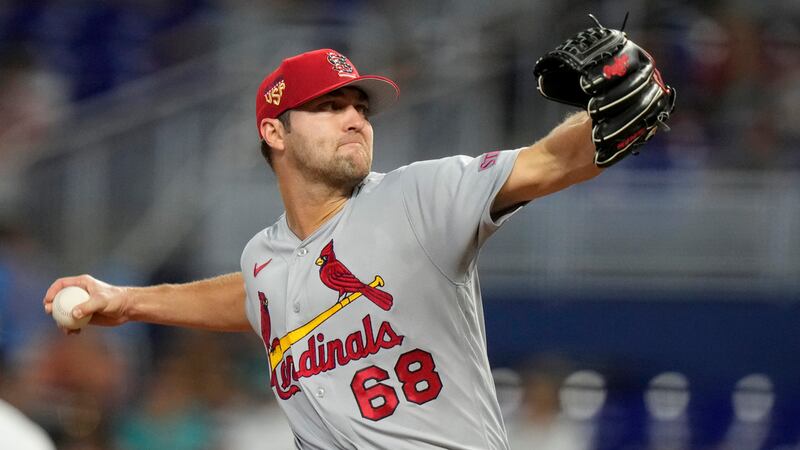 Published: Aug. 19, 2023 at 1:34 PM CDT
ST. LOUIS, Mo. (KMOV) - After wearing it on the mound for the Cardinals in a lopsided loss Friday night, James Naile makes a familiar trek Saturday as the Cardinals look to reinforce the bullpen with a fresh arm.
Naile pitched three innings of relief for the Cardinals in Friday's 7-1 loss to the Mets, allowing four runs in mop-up duty as the St. Louis offense fell dormant for the third straight game. Saturday, he's heading back down I-55 to Memphis as the Cardinals have recalled Guillermo Zuñiga from Triple-A.
It's been a trying season for the 24-year-old Zuñiga, who was a sleeper pick for the Cardinals bullpen coming into spring training. Instead, Zuñiga has struggled to this point in his season, compiling a 7.85 ERA across 28.2 innings in Triple-A.
On the bright side for Zuñiga, though, has been the 36 strikeouts he has posted for Memphis in that span, representative of the type of swing-and-miss stuff that got the Cardinals excited about him when they signed him to the 40-man roster in the off-season.
Zuñiga does have one scoreless appearance that he posted for the Cardinals back in May⁠—his MLB debut⁠—and will look to follow the path Zack Thompson has taken in recent weeks. Despite a gaudy ERA in Memphis for Thompson, the lefty has returned to St. Louis to hold down a rotation spot, allowing just two runs over five innings in his start on Friday night.
For Zuñiga to thrive in this next big-league stint, he'll need to do what Thompson has been able to do in limiting the free passes relative to his track record of walks in the minors. Zuñiga has walked 20 batters in his 28.2 innings this season in Memphis.
Copyright 2023 KMOV. All rights reserved.