CITY SC to build mini-pitches around the St. Louis region to offer safe space for kids to learn soccer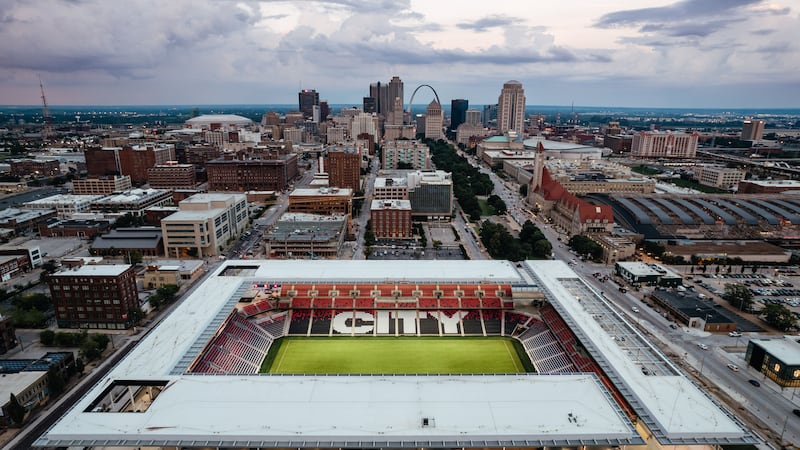 Published: Aug. 16, 2023 at 5:45 PM CDT
|
Updated: Aug. 16, 2023 at 6:07 PM CDT
ST. LOUIS, Mo. (KMOV) - St. Louis CITY SC is partnering with American Family Insurance and the U.S. Soccer Foundation to install 11 mini-pitches around the St. Louis region by the 2026 FIFA World Cup.
The first three mini-soccer fields will be in Ferguson, Fairmont City, Illinois and DeSoto Park in St. Louis City. The DeSoto Park mini-pitch is already in progress, the Fairmont City mini-pitch will break ground this fall and the Ferguson pitch will be built next year.
"One of our missions as a club has always been to make soccer accessible to all," said St. Louis CITY SC's CEO Carolyn Kindle. "Not only will the mini-pitches provide an opportunity for residents to play soccer together, but it will also unite the community through the power of sport. We strive to be an exceptional club and neighbor and want to help grow the beautiful game by ensuring soccer can be enjoyed across the region, whether it's through a pickup game, tournaments or training sessions. We can't thank American Family Insurance and the U.S. Soccer Foundation enough for partnering with us on this important project."
CITY said that the mini-pitches will be small, customized, hard-court surfaces that will work well for both organized soccer and pickup games. The mini-pitches will include lights that will allow children and adults to use the spaces for longer.
The lights will be installed by Musco Lighting, the club's lighting partner and creator of the Mini-Pitch System.
"With these mini-pitches, we want to establish a street soccer experience for our youth," said Sascha Bauer, St. Louis CITY SC's Director of Regional Training and Education. "Historically, street soccer has contributed worldwide to many players' careers in learning the main ingredients of the game. Playing without adults is different – young players have more space to be creative and grow their game in the most fun way – by playing.
"Through our CITY Futures programming, our coaches help players grow their self-confidence, learn to problem-solve and better handle conflicts while establishing a culture of respectful communication through our soccer and life-skills curriculum."
To read more about the mini-pitches, you can visit CITY SC's website.
Copyright 2023 KMOV. All rights reserved.