Liberatore stymies Rays across eight shutout innings as Cardinals claim the series in Tampa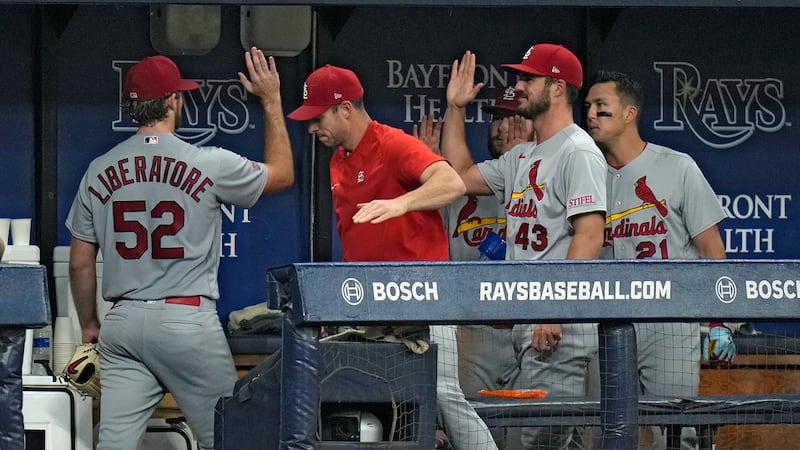 Published: Aug. 11, 2023 at 12:25 AM CDT
ST. LOUIS, Mo. (KMOV) - Though they didn't necessarily know it when it happened in January 2020, the Cardinals sent a budding superstar to the Tampa Bay Rays in exchange for Matthew Liberatore.
Now, as a left-handed pitching prospect, Liberatore was a former first-round talent that St. Louis hoped would turn into a rotation mainstay at the Major League level. Though Liberatore has progressed through the system and reached the big leagues, he's still circling the drain on the type of consistent, successful performance that will keep him there.
Randy Arozarena, alternatively, didn't wait long to show what he could do in the Tampa organization. In the three-and-a-half years since the trade, Arozarena has blossomed into a World Series standout, American League Rookie of the Year, and All-Star starting outfielder.
So when the schedule set up for the Cardinals' lefty Liberatore to face the Rays on Thursday at Tropicana Field, it created the potential for the tantalizing matchup between the 23-year-old starter and the player for whom he was traded.
Though the prognosticators might have had an obvious lean in how this bout would play out, baseball has a funny way of throwing off your expectations. And if Thursday was a sign of things to come, they might just have to relabel the swap as the Matthew Liberatore trade.
With his entire arsenal working against Tampa's heavy right-handed lineup, the lefty Liberatore dazzled for eight scoreless innings as the Cardinals beat the Rays 5-2.
The Rays offense ranks fourth in MLB in runs scored this season, but didn't add a tally to that total with Libby on the mound Thursday.
"That was a phenomenal outing," Cardinals manager Oli Marmol said after the game, as shown on Bally Sports Midwest. "What he just did was fun to watch."
Exceeding the 100-pitch threshold for the first time in his MLB career, Liberatore allowed just two hits while striking out seven and navigating one of the American League's most productive lineups with aplomb.
"I mean, he was untouchable tonight," Cardinals catcher Andrew Knizner told Bally Sports Midwest of Liberatore's outing. "That was about as good as you can pitch. But that's how he can pitch every night."
In his postgame interview, Knizner alluded to his message for Liberatore coming into the game as the catcher called for his batterymate to show an aggressive approach on the mound.
"We talked before the game and I told him, I said, 'Dude, your stuff is elite. Just challenge these hitters. Do whatever you can. Challenge these guys. Get strike one. Go right after them. Trust your stuff.' And he did that tonight," Knizner said. "He was unhittable. Mixing pitches. I can't say enough. That was outstanding."
Marmol explained that Liberatore's fastball velocity⁠—which averaged a tick below 93 mph in his previous start⁠—was up around 95 mph on average Thursday night. It's a shift that proved instrumental in Liberatore unlocking a new level of his success.
"That fastball had a little extra zip tonight," Knizner said. "I don't know, maybe a little extra motivation playing against his former organization. But when he's throwing the ball hard like that, it makes everything else play up even more. Hopefully going forward the rest of the season, he can keep that velo up and keep mixing his pitches like he did tonight."
As Knizner wondered, could Liberatore's increased velocity have been at all related to the notion that he was facing the organization that drafted him? After all, that's a team that has probably been rather satisfied with the outcome of its January 2020 trade with St. Louis. It's just human nature: that can't feel good if you're on the other side of it.
For Liberatore's part, though, he has historically downplayed the idea that comparing himself to the player for which he was traded would ever be a necessary exercise.
Given how much noise there has been from outside sources pontificating over the years that the Cardinals lost the trade that saw them part with an All-Star and former Rookie of the Year in Arozarena, it wouldn't be a surprise to imagine that Liberatore has heard his fill of it by now.
If it was on his mind heading into Thursday's matchup, he didn't let on.
"He kept that all pretty low-key," Marmol said. "He went out there and just did his job. We talk about showing flashes of what he's capable of doing—that was extremely impressive."
Though it surely felt good to show the Rays the other side of the coin on the deal that supplied them with Randy Arozarena, we can likely expect Liberatore to other forces beyond that one to drive his career forward beyond Thursday's masterpiece.
"Hopefully he can cancel that out and he's more motivated by other things than just that," Marmol said. "Great players are."
Copyright 2023 KMOV. All rights reserved.