Olio, Elaia and Nixta moving from Botanical Heights neighborhood
Published: Aug. 7, 2023 at 10:21 PM CDT
ST. LOUIS, Mo. (KMOV) - Popular Botanical Heights restaurants Olio, Elaia and Nixta are moving from Botanical Heights at the end of the year.
Owner Ben Poremba with the Bengalina Hospitality Group said he's seen a lot of change in the neighborhood in the last decade and now wants to do the same thing in another part of the city.
"I got to see a dream come true, which is very rare, and I got to see a vision materializing," Poremba said. "Very few people can say that."
When the restaurants first opened a decade ago, Poremba said the neighborhood was not booming like it is now.
On the same intersection of McRee and Tower Grove, Poremba also owns La Patisserie and AO&CO.
"This is a vibrant, lively, very happy, very loved neighborhood right now," Poremba said.
Come 2024, Olio, Elaia and Nixta will move to the Delmar Maker District, which is on Delmar between Kingshighway and Union.
Poremba said he wanted to buy the buildings his restaurants are currently in but wasn't able to, making this move a bittersweet one.
The Deli Divine opened on Delmar earlier this year, which is another one of Poremba's restaurants.
Poremba said while driving to the deli every day, he saw the same inspiration he had in the Botanical Heights neighborhood all of those years ago.
"Trying to break the stigma that Delmar has and bring some positive attention to it as opposed to being the marker of this divide," Poremba said. "The marker of bad things."
Doug Auer co-founded the Third Degree Glass Factory on Delmar 20 years ago.
Within the last five years, he's seen a drastic change in the area as businesses, restaurants and bars continue to open along Delmar.
Auer said these new restaurants will bring even more attention to the area.
"There are jobs," Auer said. "There are just more things to do. For me, the most important thing is that one of the things we've battled for the last 20 years here is this feeling of safety and security. The best solution, in my opinion, is people and having the street activated."
Abandoned buildings and vacant lots are now turning into construction sites on Delmar.
Auer wants to see the growth continue, but he said there needs to be more affordable housing offered.
"That's huge for me," Auer said. "It's something that's a challenge in this city and many cities having these walkable communities so our goal is to get people to move into the neighborhood and have a lot of the goods and services they need at their fingertips."
Poremba said not only is he moving these three restaurants to the Delmar Maker District, but he'll also be opening a fourth place there.
The locations in the Botanical Heights neighborhood are closing on Dec. 31.
Poremba posted this letter on social media to the community: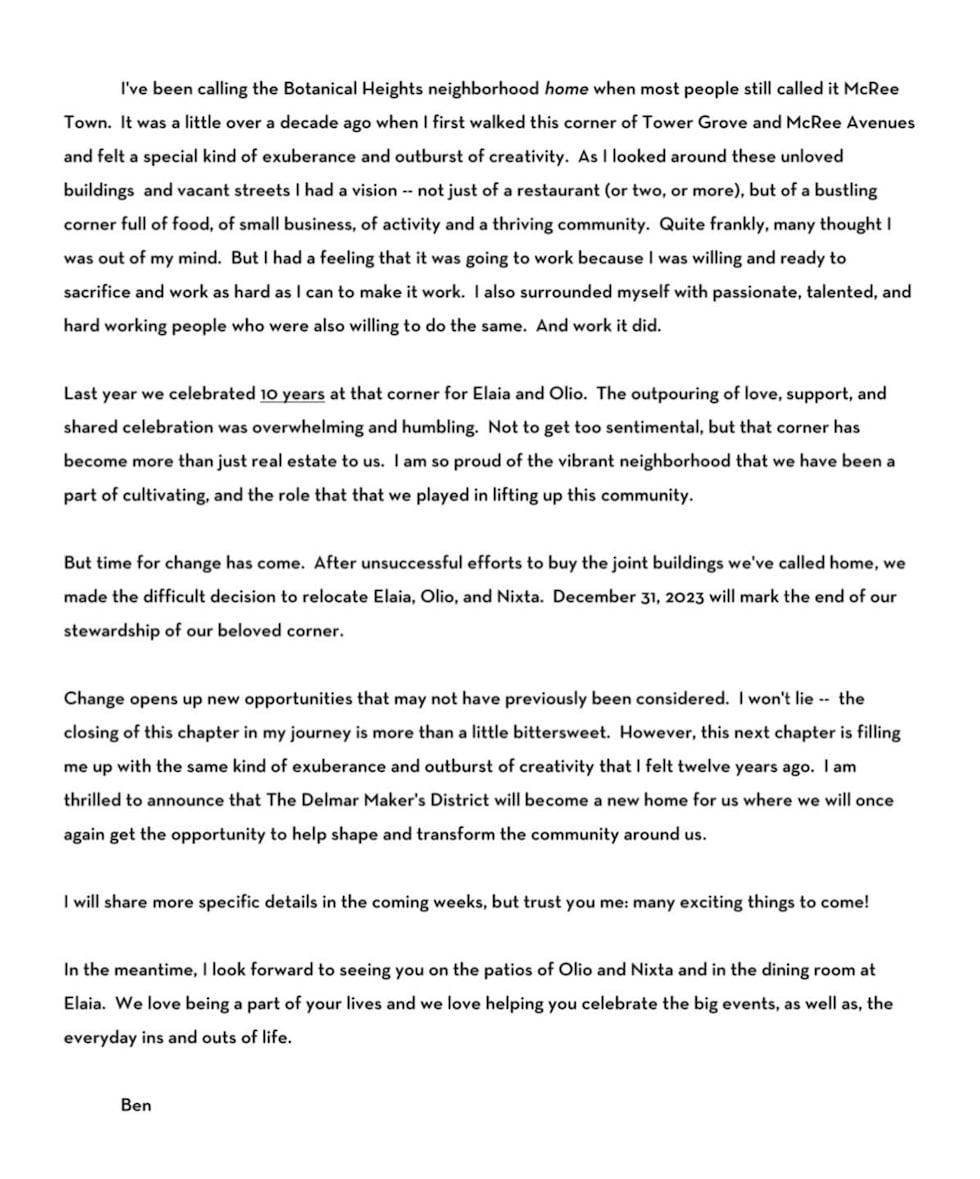 Copyright 2023 KMOV. All rights reserved.