Matz wins third straight decision as Cardinals roll Rockies, 6-2
The veteran left-hander opened the season with an 0-7 record but has turned his season around after returning to the starting rotation in early July.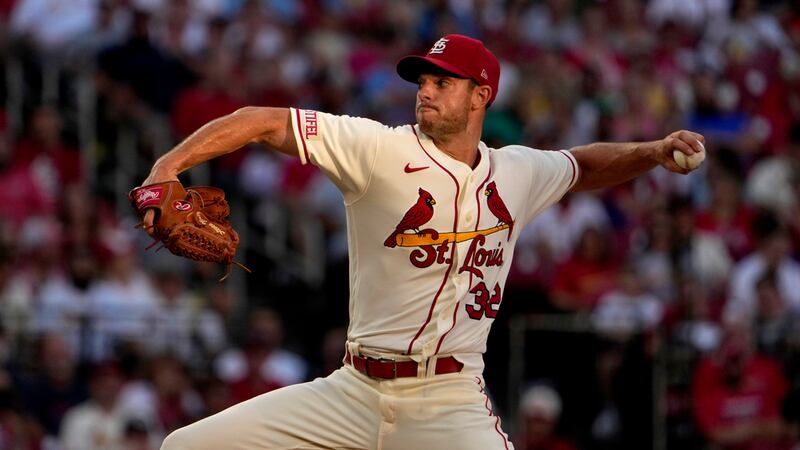 Published: Aug. 6, 2023 at 12:32 AM CDT
ST. LOUIS, Mo. (KMOV) - Though it took some time for him to show up in this form, the Cardinals are hoping to see the current version of Steven Matz stick around for a while.
After starting out his season with an unsightly record of 0-6 with a 5.72 ERA over his first 10 starts, Matz eventually lost his role. The journey back into St. Louis' starting rotation took him through the bullpen, where his record fell further to 0-7 as he picked up a loss without earning a win over a six-week stretch as a reliever that began in late May.
But even without something in the 'W' column to show for it, things started clicking again for Matz. By the time he was being ushered back into the starting rotation, Matz had regained the conviction in his pitches that seemed to be lacking before.
"You can tell," Matz's catcher Willson Contreras said of the new look for the lefty in his second stint as a starter this year. "You can tell his body language is way different. You can see that. He's going right after batters, he doesn't care who is batting. He's just believing in himself."
That conviction in his entire arsenal was on display Saturday as Matz pitched six innings of one-run baseball in a 6-2 Cardinals' win over the Rockies at Busch Stadium.
Matz allowed just five hits while striking out six Colorado hitters to win his third straight decision. After dropping the first seven to begin the year, it's been a welcomed turnaround.
"This is a really nice stretch for Matz and it's awesome to see," Cardinals manager Oli Marmol said. "He continues to just pitch with an edge, honestly. The velo is up, which is helpful. That's a big contributor to his success."
Matz came out firing fastballs consistently between 95 and 96 mph in Saturday's first inning before sitting about 94 mph with regularity throughout the night.
"I think my fastball makes everything better," Matz said of what can go right when his bread-and-butter is on point. "So I'm moving the fastball around and then keeping the changeup where it needs to be, down. I threw some good curveballs today, as well. Ultimately, everything played off my fastball, being aggressive with that."
A prime example of the difference in Matz's demeanor between the early-season struggles and what he has provided for the Cardinals lately came in a key spot in Saturday's fourth inning. Matz faced Elehuris Montero⁠—the infielder traded by the Cardinals to the Rockies as part of the deal for Nolan Arenado⁠—with the bases loaded and two outs.
Pounding Montero near the bottom of the zone with changeups eventually elicited the feeble popout Matz needed to escape the jam. What could have otherwise been a defining moment of his outing for the wrong reasons turned into one of the reasons his night was successful.
"I made a big pitch tonight with the bases loaded," Matz said. "Really, three big pitches. Three good changeups in a row. You know, that could've snowballed for me earlier in the year. So I think just pitching with confidence and making those pitches when they count. That was big."
As a team, the Cardinals have gone 5-1 in games started by Matz since his return to the rotation on July 9. And it's not just the bats carrying Matz to greater degrees of success in recent weeks. The veteran left-hander has earned his triumphs, allowing no more than one run in each of his last four starts. His ERA over that span is a minuscule 0.78, pushing his season-long ERA down to 3.91 at the conclusion of Saturday's start.
Matz has now logged three straight starts in which he has completed six innings as he has settled in as a steadying presence for a rotation that has experienced plenty of turbulence this year.
"I think that's huge," Matz said. "That's what you want out of a starter. That's something that we all can take pride in. That's what I wanted to do earlier in the year, so to be able to do that here in the second half, it definitely feels good."
Offensively, the Cardinals produced up and down the lineup Saturday for a balanced showing that saw all nine starters reach base safely, with seven of the nine spots in the batting order collecting at least one hit. The Redbirds also demonstrated consistency throughout the night, scoring in four separate innings in the ball game and doing so with the benefit of only one home run.
"This lineup has the ability to beat you in a lot of different ways," Marmol said. "We just took really nice at-bats all the way through."
Tyler O'Neill got the scoring going with his fifth home run of the year in the second inning. O'Neill has walloped three of those five blasts since returning from the injured list on July 20. The 28-year-old left fielder has increased his OPS from .620 to .745 in that span.
Shortstop Tommy Edman also stood out for the Cardinals on Saturday, going 3-for-5 with a triple and a double out of the leadoff spot.
Copyright 2023 KMOV. All rights reserved.