Cardinals trade Jack Flaherty to Baltimore Orioles for three prospects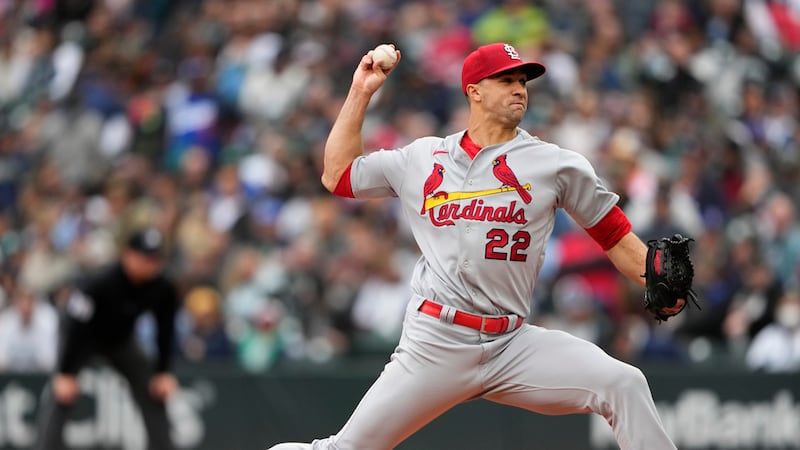 Published: Aug. 1, 2023 at 5:07 PM CDT
ST. LOUIS (KMOV) — Just minutes before Tuesday's 5 p.m. Central trade deadline, the Cardinals found a trade partner for starting pitcher Jack Flaherty, sending the right-hander to the Baltimore Orioles.
The Cardinals later confirmed the deal, which nets the Cardinals three prospects in infielder Cesar Prieto and pitchers Drew Rom and Zack Showalter.
Flaherty, 27, was a first-round draft pick of the Cardinals in the 2014 MLB Draft and had pitched for St. Louis in the Major Leagues since debuting during the 2017 season. He started 118 games in that stretch, at times demonstrating ace-level capabilities on the mound.
While Flaherty dealt with his share of injuries during his Cardinals tenure, he also posted strong overall numbers: a cumulative 3.58 ERA with 706 strikeouts in 633.0 innings pitched. Flaherty hadn't performed to that level this season but still had value to a contending team looking to bolster its rotation. He lands with Baltimore, a contending team without a bona fide No. 1 starter for a playoff series.
Given Flaherty's status as an impending free agent and the Cardinals' lackluster position in the standings, the team needed to capitalize on his trade value Tuesday. In acquiring a trio of prospects from Baltimore, St. Louis seems to have gotten the necessary value out of an expiring contract.
Both Drew Rom and Caesar Prieto were playing for Baltimore's Triple-A affiliate in Norfolk before Tuesday's trade. Rom, a 23-year-old left-handed starting pitcher, had struck out 100 batters in 86.0 innings pitched for Norfolk this season, representative of the type of swing-and-miss ability the Cardinals have vocally sought in this trade period. But Rom's elevated walk rate—46 walks in 86 innings—has contributed to a 5.34 ERA on the season. As the 18th-ranked prospect in the loaded Orioles farm system according to MLB Pipeline, Rom will be another developing arm added to a restocked St. Louis system.
Prieto, another utility infielder to add to the Cardinals' growing crop of them at this deadline, has posted impressive numbers at the plate across Double-A Bowie and Triple-A Norfolk this season. Prieto's batting average is north of .300 at each level, and cumulatively, he has posted a .349/.393/.475 batting line on the year. Plate discipline is one quality that stands out for the 24-year-old, as he has struck out just 27 times across 364 plate appearances in 2023. Prieto was Baltimore's 16th-ranked prospect, according to MLB Pipeline.
In a week that has seen the Cardinals focused on emerging talent at the upper levels of the minor leagues, Zack Showalter is a different story. An 11th-round selection of the Orioles in last year's MLB draft, the Orioles prioritized Showalter with a $440,000 signing bonus, well beyond the slot value for players selected in that round. In paying above and beyond slot value, Baltimore was able to secure his signing rather than see Showalter play out his collegiate commitment to USF.
Though he was not ranked among the Orioles' Top 30 prospects according to MLB Pipeline, other outlets had Showalter on their lists. Regardless of his prospect pedigree, Showalter is not your typical 11th-rounder. He's shown promising signs early in his professional career, soaring to a 0.90 ERA across 10 innings of rookie ball earlier this season. Showalter continued to thrive after his promotion to Low-A, posting a 3.10 ERA in 20.1 innings pitched. On the year, Showalter has racked up 41 strikeouts across 30.1 innings.
Copyright 2023 KMOV. All rights reserved.