Cardinals jump into trade deadline frenzy, trade Montgomery, Hicks, Stratton across multiple deals Sunday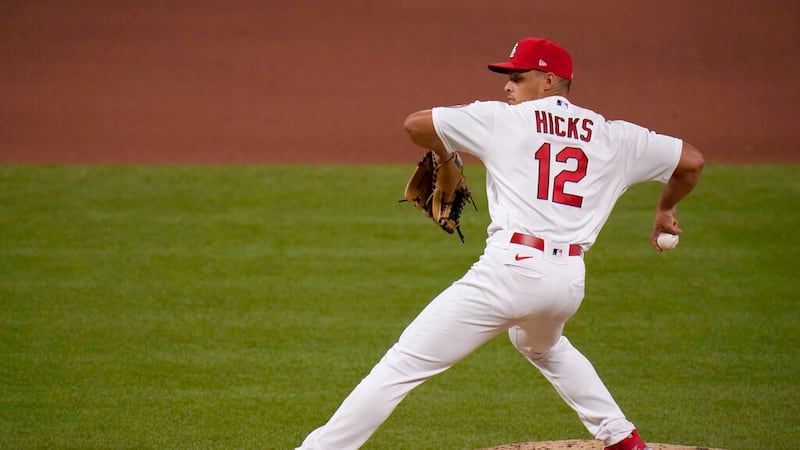 Published: Jul. 30, 2023 at 3:22 PM CDT
ST. LOUIS, Mo. (KMOV) - The St. Louis Cardinals jumped into the trade deadline frenzy with fury Sunday afternoon, reportedly swinging multiple trades that will contribute to a completely reworked roster for the stretch run of the 2023 season.
As the Cardinals were busy beating the Cubs 3-0 to stave off a sweep at Busch Stadium, the St. Louis front office pulled off a pair of trades Sunday that will see starter Jordan Montgomery, closer Jordan Hicks and reliever Chris Stratton playing out the remainder of their seasons on new teams.
Montgomery and Stratton are heading to the Texas Rangers in exchange for infielder Thomas Saggese, right-handed pitcher Tekoah Roby and left-handed pitcher John King.
In a separate deal, Hicks is heading to the Toronto Blue Jays for a pair of right-handed pitchers Sem Robberse and Adam Kloffenstein.
The Cardinals have officially announced both deals, with Cardinals president of baseball operations John Mozeliak describing the frenzied day at the ballpark as an "event" in the context of their overall trade deadline plans.
Though Mozeliak hesitated to say how any or all of the prospects acquired by the Cardinals Sunday would factor into the 2024 roster at the big-league level, he expressed optimism about the talents of the players added through this sudden burst of activity.
"We do believe that some of these young men have some upside that will contribute for a long time here," Mozeliak said.
The deal with the Blue Jays comes after Toronto closer Jordan Romano landed on the injured list this week with back inflammation, a transaction that conceivably ramped up Toronto's urgency on the relief pitching front, compelling them to deal two Double-A arms for a couple of months of Hicks, who is a free agent at season's end.
Adam Kloffenstein is a 22-year-old right-handed starter who has spent this season at Double-A New Hampshire. He's compiled a 3.24 ERA while racking up 105 strikeouts in 89.0 innings pitched. It's been a strong season for Toronto's third-round draft pick from the 2018 MLB Draft, as he's returned to the radar as a potential future big-leaguer following tumultuous campaigns in 2021 and 2022.
In those years, Kloffenstein posted ERAs of 6.22 in High-A and 6.07 in Double-A, respectively. His renaissance this season, though⁠—a strong K-rate matched with a reasonable-enough walk rate (34 in 89 innings)⁠—matches the style of pitching the Cardinals have described as attractive ahead of this deadline.
The other pitcher coming to St. Louis from the Hicks trade, Sem Robberse, fits that description, too. The 21-year-old Netherlands native participated in the 2023 Futures Game in Seattle earlier this month and has posted a 4.06 ERA with 86 strikeouts in 88.2 innings pitched at Double-A this year.
Both Kloffenstein and Robberse will report to Triple-A Memphis as the Cardinals begin the process to backfill their organizational pitching depth following the departures at the MLB level.
"I think the way I would look at, so far, what we've been able to get in our returns are people that are going to be pitching at our upper levels," Mozeliak said. "We feel like we've added some depth that will have an immediate impact in 2024."
The Rangers have been active in the trade market on the pitching front this weekend, acquiring veteran starter Max Scherzer from the Mets to bolster the pitching staff that is being shepherded by former Cardinals pitching coach Mike Maddux. With news emerging Sunday of a new injury for Texas starter Nathan Eovaldi, however, the Rangers still found the Cardinals an attractive trade partner.
An intriguing arm who was taken by the Rangers in the third round of the 2020 MLB Draft, Tekoah Roby has seen his professional career hampered by injury to this point. He's dealt with elbow troubles in previous seasons and has been on the minor-league injured list in the current campaign since early June with a shoulder issue. Mozeliak said Sunday he expects Roby to pitch for a minor-league affiliate at some point in 2023. The 21-year-old had a 5.05 ERA in 46.1 innings pitched at Double-A Frisco this season.
With the exception of 28-year-old left-hander John King, each player acquired by the Cardinals in Sunday's whirlwind has been at the Double-A level this season. King has a 5.79 ERA in 15 relief appearances with Texas at the MLB level this season. Though his landing spot within the organization could depend on other moves before the Cardinals take the field next on Tuesday night, King will likely join the St. Louis bullpen upon his arrival.
The one non-pitcher acquired by the Cardinals Sunday should draw attention for the player comparison Mozeliak granted him. The Cardinals' lead baseball executive invoked Brendan Donovan's name when it came to the versatility the Cardinals see in Double-A infielder Thomas Saggese, whose numbers offensively at Double-A also impressed St. Louis. Saggese has a .313/.379/.512 batting line with 15 home runs in 417 plate appearances for Frisco this season.
For Mozeliak, Sunday's moves signal merely the launching-off point into the next series of trade discussions as the Cardinals don't necessarily see their action dwindling down over the final push before Tuesday afternoon's deadline.
"The trading deadline hasn't come and gone," Mozeliak said. "Today was an event. We moved three key players. Do I anticipate more to come? Probably.
"We have roughly 48 hours left in this. So we're going to roll our sleeves back up after I leave here and reassess where we are. We might change some of our goals now because of what we were able to accomplish. So we'll just talk through that this evening and then prep for tomorrow and Tuesday."
As Mozeliak alluded to the potential of shifting goals, the next two days could be just as intriguing as Sunday was for St. Louis. The front office has successfully extracted value from three pitchers on expiring contracts, but Jack Flaherty still remains a plausible trade candidate of the same category. Paul DeJong has been heavily rumored to be on the block as well, as the prohibitive nature of his $12.5 million option for 2024 essentially renders him a rental player, too.
The Cardinals should be motivated to move both players, with a more general focus on talent--regardless of position--in their sights after Sunday's accomplishments on the pitching front.
Copyright 2023 KMOV. All rights reserved.