Mozeliak leaves Arenado to answer for rumor mill as Cardinals' radio silence adds to pre-deadline dread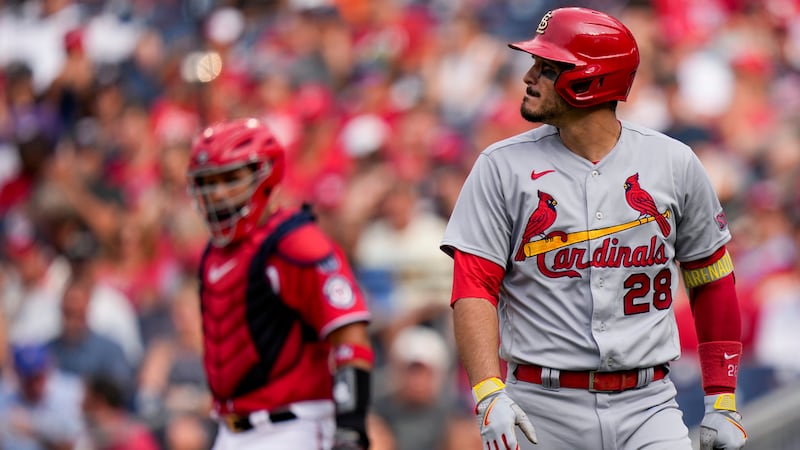 Published: Jul. 29, 2023 at 12:38 PM CDT
ST. LOUIS, Mo. (KMOV) - If he wants, John Mozeliak could take a seat in the home dugout at Busch Stadium before any given home game and put an end to all of it.
If that's not a suitable environment, he could text a statement to any writer in town. He could call up any local radio or television station for an interview on his terms. He could even sneak into the KMOX studio that sits on the ground floor inside the bowels of Busch Stadium, just steps from home plate.
The Cardinals' president of baseball operations could choose any of these avenues to disseminate a message that seems important for the fan base—and increasingly, his star third baseman—to hear.
How he does it is no longer important. It's simply that he does it. So far, it hasn't been a priority.
As rumors have swirled in recent days about the possibility of the Cardinals trading their franchise cornerstone third baseman to the Los Angeles Dodgers, Mozeliak has seemingly leaned on his words from nearly two weeks ago to do all of his talking on the subject.
"I don't have any intentions of trading anybody like them," Mozeliak told reporters on July 17 when asked whether veteran anchors Nolan Arenado and Paul Goldschmidt had assurances they would not be included in the team's trade deadline sell-off. "But if you're willing to listen on anything, you have to understand. But I doubt that would happen in any scenario at this point. Not ruling anything out at the moment but both of those guys have complete no-trade (clauses).
"I think from their standpoint, they really just want to know directionally what we look like for next year."
Mozeliak's policy, then, is not to send any incoming trade offers directly into the spam folder, regardless of how ludicrous the proposal might seem. It doesn't hurt to listen, and listening doesn't equate to acceptance or even sincere consideration of a trade offer.
But when Jorge Castillo penned the article for the Los Angeles Times this week that first shed light on the notion of tangible Arenado discussions between the Dodgers and Cardinals, it set off a rumor-filled cavalcade that has wound its way through several national media outlets discussing the idea that the Cardinals would conceivably offload their best player.
For what it's worth, Castillo told 101 ESPN in St. Louis Thursday that his sources have more recently indicated that the Cardinals "have sort of closed the door on this" regarding moving Arenado for a package of young pitchers from Los Angeles. Though he maintained that previous discussions had taken place between the Cardinals and Dodgers on some level, the originator of the most recent round of 'Nado-2-LA' smoke didn't sound particularly convinced that the talks were heading in a fruitful direction at this point.
Which, when you take a moment to step back from all the headline hysteria, is exactly the way one might have expected such a series of conversations to go after hearing Mozeliak speak back on July 17. He didn't expect to trade Arenado or Goldschmidt. But he didn't say he wouldn't listen.
While it's true that it doesn't hurt Mozeliak and the Cardinals from a tactical perspective to listen on the Dodgers' Arenado pursuits, continued public silence on the topic as the baseball world whispers loudly about the possibility has put a frenzied fan base on high alert between now and Tuesday's deadline. More consequential than what it's done to Cardinal fans, though, is how the team's bunker act to this point has impacted the psyche of the player.
Nolan Arenado had already departed the Busch Stadium premises before the media availability inside the Cardinals clubhouse opened up after Thursday night's loss to the Cubs. Perhaps another day passing would give Mozeliak time to clear the air publicly on the subject before Arenado would be compelled to speak on it himself—if that's what he thought, it was wishful thinking.
According to several reporters in the St. Louis clubhouse the next night, Arenado initially declined to speak on matters unrelated to Friday's game, which ended with a game-saving home run robbery by Chicago center fielder Mike Tauchman. But those same reporters explained that Arenado later returned to the clubhouse to address the elephant in the room.
The problem with that picture? Arenado shouldn't feel compelled to address topics that Cardinal leadership has evidently not discussed with him when that same leadership could be answering for its actions, instead.
The Cardinals have hidden throughout this saga behind their years-long policy not to discuss on the record trade rumors or free agent negotiations. While it's true that has historically been their policy, the Cardinals also, historically, haven't been a losing team, forced into acting as sellers at the trade deadline.
Arenado, though, is not unfamiliar with that kind of environment. It's basically the one he endured annually as a Colorado Rockie before the Cardinals rescued him ahead of the 2021 season.
In fact, the circumstances that led to the Cardinals swooping in for the slam-dunk acquisition was the untenable relationship between the perennial Gold Glover and Colorado's then-lead baseball executive Jeff Bridich.
"There's a lot of disrespect from people there that I don't want to be a part of. You can quote that," Arenado told MLB.com in January 2020 after Bridich acknowledged listening to trade offers for the third baseman that winter.
Though Arenado said it wasn't the trade rumors, specifically, that bothered him, there was clearly a lot of angst about how the Rockies handled his situation after he signed an eight-year contract extension with Colorado in 2019. It's a cautionary tale if there ever was one.
If John Mozeliak doesn't want to publicly commit to the St. Louis fan base that, rather than trade a future Hall of Famer this week, he will build around Arenado for 2024 and beyond, that's fine. Fans can squirm for another few days before the deadline passes as a signal of the club's stance on the issue.
But Mozeliak might want to clue in Arenado on his plans—while offering a sincere mea culpa for letting it drag on this long in the first place.
Thanks to the missteps of Arenado's former team, the blueprint on how to make this superstar player uncomfortable with the direction of your organization is no secret. The Cardinals need to make sure they're not following it.
Copyright 2023 KMOV. All rights reserved.