Cardinals activate Wainwright to start Monday night in Arizona; Herrera back to Memphis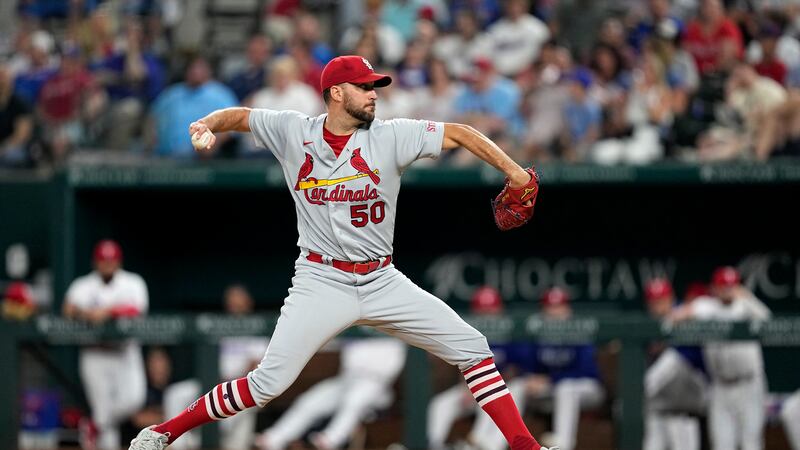 Published: Jul. 24, 2023 at 6:01 PM CDT
ST. LOUIS (KMOV) - After a disappointing series loss on the North Side of Chicago over the weekend likely cemented the Cardinals' status as full-scale sellers ahead of the upcoming MLB trade deadline, the team is making a decision that might otherwise be considered questionable in a more competitive season.
When the Cardinals take on the Arizona Diamondbacks on Monday night in the desert, Adam Wainwright will be the Redbirds' starting pitcher. The team activated the veteran right-hander from the injured list Monday, optioning catcher Ivan Herrera to Triple-A in a corresponding move.
Wainwright (3-4, 7.66 ERA) has not pitched since a third-straight dud of an outing on July 4 knocked him out of the rotation and onto the injured list. The 41-year-old pitcher has since gone through a series of cortisone injections for his shoulder and threw some bullpen sessions from which he reported encouraging results.
In a year where the Cardinals are still fighting for playoff positioning, I'm skeptical of whether you'd see Wainwright thrust back into the mix without even a rehab start to prove his health and ability. But given that the game results hardly matter at this point for St. Louis, getting Wainwright as many starts as possible the rest of the way makes enough sense for the Cardinals to throw him out there on Monday. Wainwright is still two wins short of 200 career MLB wins.
As the team plans to unload expiring contracts from their rotation over the next week leading up to the August 1 trade deadline, it would benefit the Cardinals to see a version of Wainwright that can, at a minimum, eat innings for a depleted pitching staff down the stretch.
As part of the series of roster moves Monday, the Cardinals also swapped out left-handed relievers, sending Zack Thompson back to Triple-A Memphis while bringing veteran LHP Andrew Suarez with the team out to Arizona. Formerly of the San Francisco Giants, the 30-year-old Suarez has spent this season in the minors, posting a 4.08 ERA in 28 appearances out of the Memphis bullpen.
Reliever Ryan Helsley was transferred from the 15-day IL to the 60-day IL to open up a 40-man roster spot for Suarez. Given that Helsley has been on the IL since June 12 with no immediate signs of an impending return, the roster move has little impact on his timeline for making it back to the active roster.
Copyright 2023 KMOV. All rights reserved.