Arenado walks off Marlins as Cardinals appear intent upon adding some intrigue to selling season
Describing the team as trade deadline sellers Monday, John Mozeliak idly threw out eight games as a hypothetical winning streak that could put a pause to those proceedings. After Tuesday, the Cardinals are now halfway there.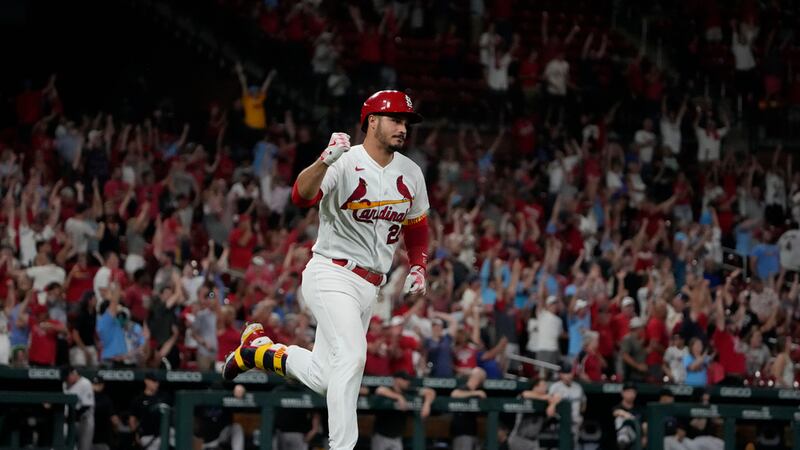 Published: Jul. 19, 2023 at 2:00 AM CDT
ST. LOUIS, Mo. (KMOV) - As is often the case for big-league pitchers during the waning innings of games they started, Cardinals starter Jordan Montgomery wasn't in the dugout when Nolan Arenado emptied it with one swing in the bottom of the 10th inning Tuesday night.
But tending to his post-pitch routine while watching the game on a television in the bowels of Busch Stadium, Montgomery had expectations from the moment the Cardinals' lone 2023 All-Star stepped into the box to face Marlins lefty A.J. Puk with runners on first and third.
In a one-strike count, Arenado rifled a belt-high fastball on a line into the left field stands to cement St. Louis' fourth consecutive win in walk-off fashion, 5-2 over the Marlins.
"I think everybody kind of had a little feeling it was going to happen," Montgomery grinned.
Everybody, perhaps, except Marlins manager Skip Schumaker.
Despite being in the dugout for a number of Arenado's thunderous swings against left-handed pitching as the Cardinals bench coach last season, Schumaker elected to have Puk face Arenado head-on.
The only run that mattered stood 90 feet away at third, so with second base open, it seemed like a plausible scenario to intentionally pass the slugger whose .979 lifetime OPS against lefties was sure to come into play. But with a resurgent Willson Contreras on deck, Schumaker let the chips fall against Arenado instead.
"Yeah, you consider it," Schumaker said of whether he gave thought to an intentional walk. "Willson's 1-for-2 against Puk. So I know the numbers. Maybe if he was behind in the count 2-0, that type of thing, I walk him.
"Hindsight, of course, if you knew he was going hit a home run, then yeah, you'd love to walk him now."
Arenado's 21st home run of the season was his first of the walk-off variety as a Cardinal. It elevated his RBI count to 71, which ranks second behind only Matt Olson on the NL leaderboard.
"He's a joke, man," Cardinals manager Oli Marmol marveled at Arenado. "He feels really good about where he's at and right now he's doing whatever he wants at the plate. It's impressive. To have him up right there, you have a pretty good feeling that the game's going to be over."
The three-run shot punctuated another hard-fought win for the Cardinals as the team benefitted from six innings of one-run baseball from Montgomery followed by gritty performances out of the St. Louis bullpen.
In a 2-2 game in the top of the ninth, Jordan Hicks backed himself into a corner by putting runners on first and third with nobody out for arguably the best contact hitter in the game, Luis Arraez. But following the example of Chris Stratton, who struck out Arraez with a backfoot slider in the seventh inning, Hicks dropped one off the table in the ninth to fan the Miami second baseman and keep the hope for a clean inning alive.
It was the first multi-strikeout game of the year for Arraez, who entered the day hitting .378.
"I feel like I had him," Hicks stated plainly. "If I executed my sliders, I had him. I think he was really looking heater. Because he's put good contact on it (recently)... Just changing it up on a good hitter like that. Sliders, four-seamer, sinker⁠—he's seen it all now so I've got another thing in my back pocket if I face him again."
After retiring Arraez, Hicks cleanly fielded a comebacker and threw a strike home to Contreras in time to cut down Jon Berti at the plate for the second out before fanning Garrett Cooper to escape the ninth unharmed.
JoJo Romero then further solidified his standing in an ever-shifting Cardinal bullpen hierarchy with a pair of strikeouts as he navigated the 10th without permitting the 'Manfred Man' to budge from second base. Arenado's walk-off turned Romero into the winning pitcher for the second time in his MLB career, with both occasions coming this month in outings that saw Romero forced to navigate the so-called ghost runner in extra innings.
"I like it," Romero said of relishing the challenge of working around the inherited runner. "I'm an adrenaline junkie, so I feed off that stuff."
Though numerous rain delays and an All-Star break have threatened to interrupt the vibe, the Cardinals have now strung together seven wins in their last nine games. Just as the organization publicly adopted on Monday the stance that its more cynical fans have been claiming for some time⁠—that the 2023 season is, effectively, over⁠—the Cardinals are suddenly threatening to round into the very form that only the most brazenly optimistic holdouts could have anticipated.
Does there come a point in an unexpected winning streak where a team who had quite literally just declared itself as a seller should look to⁠—borrowing a phrase from the team's top baseball operations executive, here⁠—put the toothpaste back in the tube on that whole deal?
It's not something the Cardinals manager is going to worry about.
"I don't care about any of that," Marmol said of the potential stickiness surrounding the notion of a winning stretch for a team that just told the world it plans to sell off parts ahead of the trade deadline. "I'm focused on tomorrow. We're going to try to win tomorrow's ballgame. Then we'll focus on the next one, and the next one. That's all I care about."
The third baseman who has in recent days assured reporters that he has long since kicked his habit of checking in on the NL Central standings must have a knack for simple arithmetic. Though he wasn't being quizzed on the topic, Nolan Arenado would have passed with high marks when approximating his team's divisional deficit Tuesday.
"We've got 60-plus games left. We're 10.0 games out of the division," Arenado said. "We're not going to win that wild card, so we've got to try to win this division. I wouldn't put it past us but I try not to focus on those things."
For now, there's little value in waxing poetic about the dream still being alive. It wouldn't be particularly en-vogue for a team in the Cardinals' position to admit to scoreboard-watching or to start touting the possibility of a comeback at this point. But anyone you talk to on this club has articulated a sensible mindset as it pertains to how they might climb back into a situation where that thought process changes.
"The goal is just to go out there, we have a game tomorrow, try to win it," Arenado said.
The Cardinals are quietly doing a better job of stacking series, claiming their third in a row with Tuesday's win. They even climbed out of last place in the Central Tuesday, with the Pirates slipping below St. Louis. The Cardinals are within shouting distance of the third-place Cubs, who they'll visit for a long weekend at Wrigley beginning Thursday.
Still 11 games below .500, the Cardinals' hesitance to look beyond the next day's game is understandable given the cavernous hole they have dug for themselves. But until Arenado starts breaking a sweat when citing from memory the particulars of the standings that he doesn't look at anymore, it's hard to argue that the improbable dream has entirely withered from the recesses of this team's collective mindset.
Copyright 2023 KMOV. All rights reserved.