'It hurts, honestly' Carlson sets the pace in Cardinals win mere hours after team publicizes plan to reduce his playing time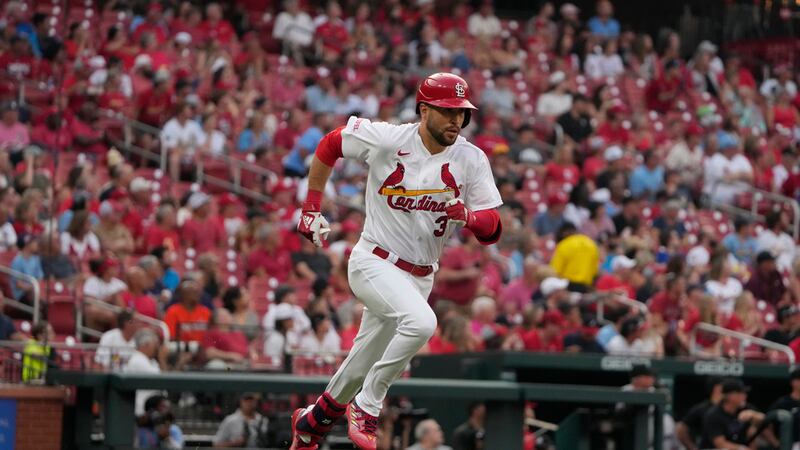 Published: Jul. 18, 2023 at 2:00 AM CDT
ST. LOUIS, Mo. (KMOV) - On what should have been a celebratory night for Dylan Carlson after he helped to carry the Cardinals to their third win in a row, the 24-year-old outfielder instead looked defeated.
Not by the Marlins, against whom Carlson had just led the Cardinals in a 6-4 win at Busch Stadium. The foe in this instance was more abstract.
Following an afternoon that featured the Cardinals manager and president of baseball operations publicly throwing their weight behind virtually every outfielder on the team but him, Carlson played a sturdy defensive center field and paced the offense from the leadoff spot Monday, reaching base three times and recording a hit from both sides of the plate. He scored three runs and knocked in another, delivering the kind of complete effort that should give the club pause on its newly-prescribed path forward for the former first-round pick.
Because as of Monday afternoon, it's a path that may not include much playing time for Carlson in the St. Louis outfield.
The standout performance by Carlson came just a few hours after John Mozeliak and Oli Marmol declared that the impending return of Tyler O'Neill from the injured list would upset the apple cart in the St. Louis outfield matrix.
"He will likely be our everyday left fielder," Mozeliak said of O'Neill to reporters before Monday's game. "In other words, that would be the plan, to have him out there every day."
The trickle-down effects of such a declaration are unavoidable for a team that has an outfield group of Lars Nootbaar, Jordan Walker and Dylan Carlson that has operated smoothly of late while O'Neill and shortstop-turned-outfielder Tommy Edman have sat on the injured list.
But as was largely the case to begin the season, the writing is on the wall again has Carlson looking like the odd man out upon O'Neill's return to the active roster.
"Trying to get Walker playing time, obviously Noot playing time," Mozeliak said of the team's intentions for its outfield before using a decidedly different phrase as it pertained to Carlson.
"Of course, trying to figure out what to do with Dylan," he said.
If spoken word had a font, that's the part to italicize.
"These are similar challenges we faced in late April. But obviously, Tyler has worked himself back to get here and so we're going to give him the opportunity."
Paving the runway for the two-time Gold Glover and top-10 finisher in the 2021 NL MVP vote made perfect sense at the beginning of the year. The chance to get back to the best version of O'Neill was clearly tantalizing to team brass.
But the experiment to shoehorn the adept left fielder into center was ill-fated from the jump and it coincided with the team's brutal start in the standings. After an off-season designed around improving his durability, O'Neill has been out of commission with a lower back strain that has kept his .620 OPS out of the starting lineup since early May.
Now that he's due to return to the active roster as early as Tuesday, though, it spells another squeeze on Carlson's opportunity to flourish in the way that he did on Monday night. O'Neill is expected to slide into the left field spot, forcing Nootbaar back into center field while being flanked on most nights by Walker on the other side.
After Monday's display, Carlson has an .842 OPS since coming off the injured list on June 9 following an ankle injury. His OPS for the season is .726, which sits a mere 21 points behind Nootbaar and 106 points ahead of O'Neill. Yet, Carlson is prepared to be back on the outside looking in on the daily lineup.
"It's definitely tough," Carlson conceded. "I feel like I can really help this team. But opportunities have been scattered. And, you know⁠—it hurts, honestly. But I just try to do what I can to be ready for these guys and ultimately try to help us when as many games as possible.
"That's always been my goal ever since I got to the big leagues is to help this team win as many games as possible. I always felt like my production and performance would come from that focus and being in that mindset. Obviously, with it being more limited and sporadic, I guess, it makes it a little harder.
"I want to be an everyday player. I'm a competitor and I'm someone who wants to be out there. I feel like I can do a lot of things. So just, when the opportunity's there, do what I can."
In spite of his status as a switch-hitter, Carlson struggled last season against right-handed pitching, posting a .633 OPS against righties compared to an .845 OPS against left-handed pitching. The disparity relegated Carlson⁠—once considered a top-20 prospect in all of baseball⁠—to a platoon role by the end of the 2022 season.
Coming into this year, Carlson worked to improve the quality of his at-bats from the left side of the plate and found encouraging results in spring training. In 35 at-bats against right-handed pitching in Grapefruit League play, Carlson posted a .981 OPS with a couple of homers to put himself in a more comfortable spot against righties heading into the regular season.
"I felt really good coming out of spring and didn't get an opportunity against righties. So that kind of stung," Carlson said. "Just tried to do my best and then all of a sudden, I was sprung into playing every day again. So yeah, it's been tough. But as a competitor and somebody who wants to be out there, I can't complain when I'm given the opportunity. Just got to be ready and run with it."
Carlson feels that a consistent mindset⁠—focusing on the things he can control rather than the things that are out of his hands⁠—can allow him to play with confidence even amid uncertainty over what his opportunity might look like on a given day or week. But having to conjure your own confidence isn't the same as having it instilled in you by your organization.
"There's no secret that when you have a more clear role and more consistent role, guys are going to probably perform a little better," Carlson said. "But it just hasn't been the case for me. So I've just got to stay ready and do what I can to help this team."
Despite not being shown the backing of the organization as an everyday player out of the gate, Carlson has found his footing as the season progressed.
After proving himself as a sturdy defensive center fielder in the wake of the Harrison Bader trade a year ago, Carlson has waited in line behind O'Neill, Nootbaar and even opening-day shortstop Tommy Edman before getting a chance to take a crack at the revolving door of the Cardinals starting center field job in 2023.
With management treating him as a last resort for the spot during the early portion of the season, Carlson has gradually been seeing more regular chances to captain the outfield as injuries have mounted at various times for his predecessors.
As he's done with aplomb regularly when permitted the opportunity, Carlson rewarded his manager and his starting pitcher on the very first batter of the game Monday night. On a deep fly ball by Luis Arraez, Carlson got a good jump and moved gracefully toward the warning track before reaching up over his right shoulder to snare the baseball with ease to get the outing off to a strong start for Miles Mikolas.
"DC's a great center fielder," Mikolas said. "He goes back on the ball great. To know that we've got guys out there who cover ground and make those plays is huge. Early in the game, to put in the back of your head⁠—a quick little reminder, the first batter of the game⁠—hey, your defense is there. Your defense has got your back. You can go ahead and pitch your game, pitch to contact if I need to, and the defense is going to be there."
Carlson has the support of his teammates but favor from upstairs has been more difficult to find⁠—a far cry from where the outfielder found himself leading up to the trade deadline a year ago.
"There was a lot of stuff last year," Carlson said. "We obviously didn't include me in a deal. That was a big thing with the fans and stuff. But for me, I try to keep my focus here in this clubhouse. I'd be lying if I say you don't hear that stuff. But the best thing for me is keeping my focus in here and being ready to play whenever my time's called upon."
With the team's public comments pointing to Carlson being the fourth man in a three-man starting outfield, it stands to reason that the rumor mill would start churning out another round of intrigue surrounding his name.
Regarding whether he's been granted similar assurances by Mozeliak approaching this year's deadline, it doesn't seem unreasonable to perceive the silence as deafening.
"There hasn't been much dialogue, truthfully," Carlson said. "But I mean, obviously with where we're at, we've got to start playing well and do some things to get back into it. So it's just the nature of the game, ultimately."
Copyright 2023 KMOV. All rights reserved.