Cardinals-Nationals suspended Friday due to weather; split doubleheader on tap Saturday
Friday's game will pick up at 1:15 p.m. Saturday with the Cardinals leading 1-0 in the third inning. Game 2 is set for 6:15 p.m.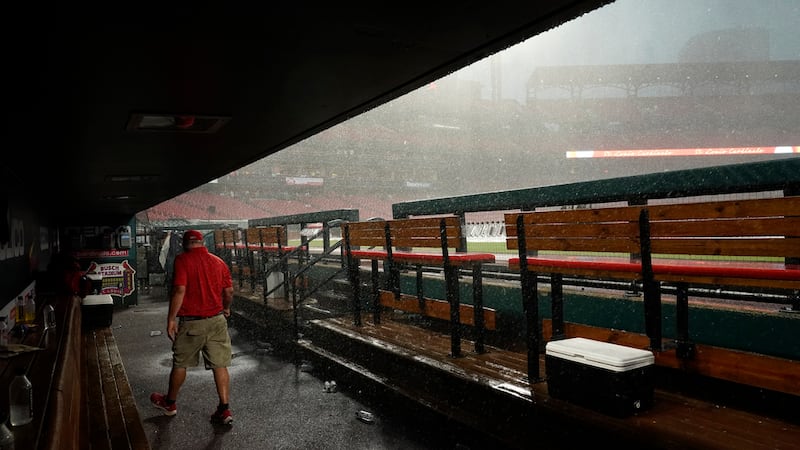 Published: Jul. 14, 2023 at 11:00 PM CDT
ST. LOUIS, Mo. (KMOV) - As Lars Nootbaar was putting a charge into a baseball with a first-inning home run Friday night at Busch Stadium, Mother Nature was charging up the dark clouds above.
The rain ultimately came and washed out the remainder of the proceedings as the game between the Cardinals and Nationals was suspended in the bottom of the third inning.
With the Cardinals leading 1-0, the contest will resume Saturday afternoon at 1:15 p.m. to lead off a split doubleheader at Busch. Paul Goldschmidt will return to the batter's box facing a 3-2 count with Brendan Donovan on base and two outs.
Gates will open at 12:15 Saturday for fans re-entering the ballpark for the resumption of Friday's contest. Tickets from Friday's game will be valid for Saturday's rescheduled 1:15 PM game.
First pitch for Game 2 is set for 6:15 p.m., and gates open at 4:15. Left-hander Steven Matz is set to start on the mound for the Cardinals in the nightcap.
Miles Mikolas had tossed three innings of no-hit baseball before the storms rolled in on Friday night, with the expectation being that the bullpen will pick up where he left off when the game resumes.
Copyright 2023 KMOV. All rights reserved.