Mosquito carrying West Nile Virus found in Madison County, Illinois
Published: Jul. 14, 2023 at 6:32 PM CDT
GRANITE CITY, Ill. (KMOV) - News 4 is warning people in the Metro East to a health alert. The Madison County Health Department conducts random mosquito population checks in different parts of the county and found a mosquito tested positive for the presence of West Nile Virus.
The mosquito with the positive results was tested in the Wilson Park area in Granite City. City administrators are now encouraging people in the community to take precautions.
To prevent mosquito bites, you can try the four D's:
DEET: Use bug spray that contains DEET as an active ingredient.
DRESS: Wear long, loose clothes and clothes with lighter colors when you're outside.
DRAIN: It's important to drain places in or around your home that have standing water because that is a place where mosquitos could lay their eggs.
DAWN TO DUSK: These are the times when mosquitos are most active so you want to limit your time outside during dawn and dusk.
John and Cheryl Birdsong have lived across the street from Wilson Park in Granite City for 25 years.
"Getting bit by mosquitos is bad enough but then when you hear there's West Nile in that conversation, that's not pleasant," John says. "I've got diabetes. She's got health issues. There's concerns obviously."
In a letter to the community, Granite City's Mayor says the most effective remedy to stop this spread is to kill larvae in standing water, rather than spraying insecticide. It says that spraying the insecticide only kills the mosquitos it comes into contact with. He says "the sprayer is the most expensive method with results not deemed the cost."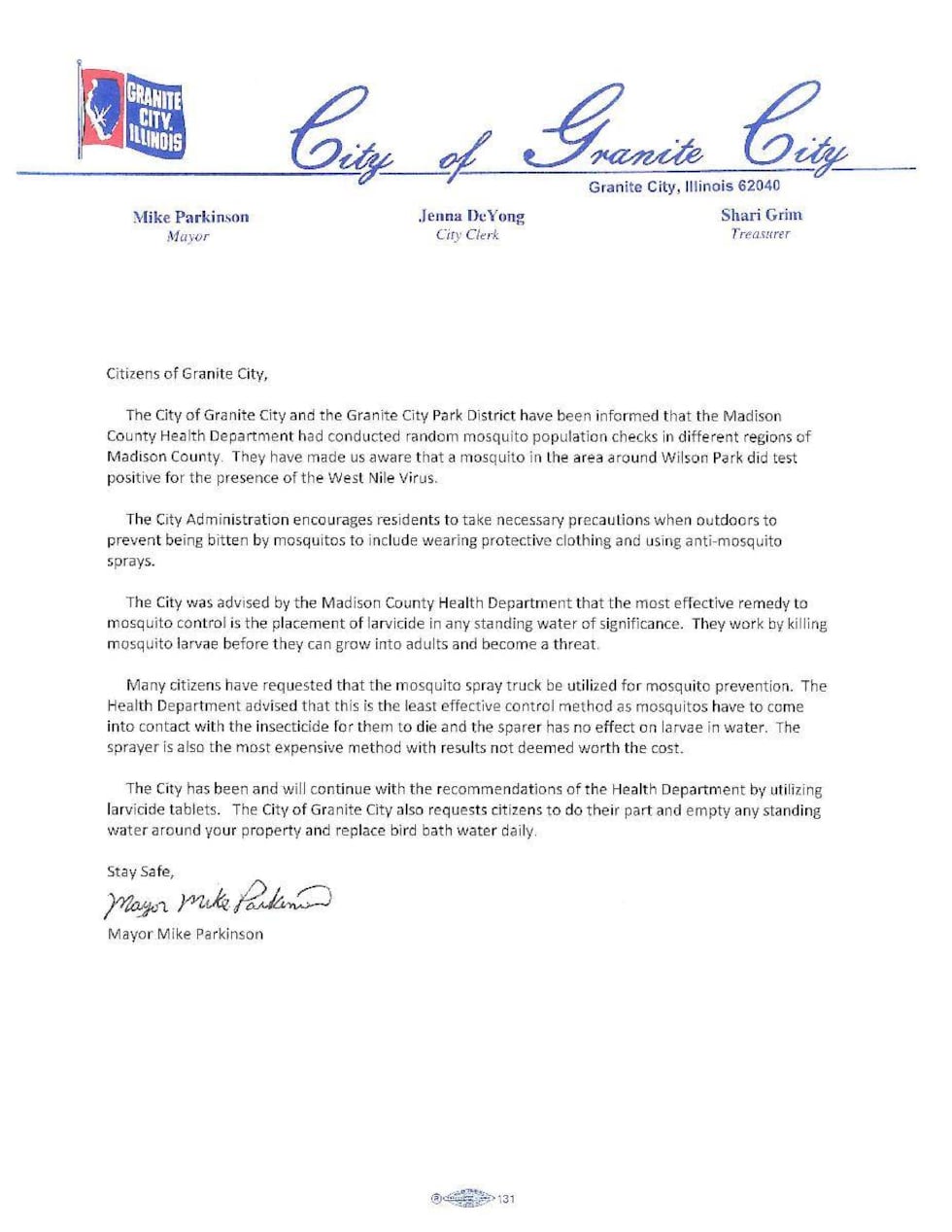 "I would think the sprayer would still kill the adult ones and the ones that are flying around biting the people," Cheryl says.
"The cost really shouldn't enter into the equation in my opinion," John says.
The CDC says about one in five people infected with West Nile Virus will develop a fever, along with other symptoms like headaches, body aches and vomiting.
The Birdsongs say when it rains, parts of the park fill with standing water.
Jay Everitt with Rottler Pest Solutions says people should get rid of any standing water near their home, including changing out the water in pet bowls and bird baths regularly.
"If you're doing that every three to five days, you're gonna stay ahead of that," Everitt says. "They can't survive without that water but it usually takes anywhere from five days up to ten days to actually develop from egg to an adult."
The Birdsongs say they try to limit their time outside.
"We don't really go outside that much after 7:00 or so and then we don't go out until later in the morning," John says.
Cheryl and John say their grandkids already have severe reactions to bug bites and the positive test on a mosquito raises even more concerns.
"We're going to protect them all we can as grandparents," John says. "Obviously kids wanna get outside, they wanna play, they wanna run around but once it gets towards evening no not so much."
News 4 did reach out to other health departments in the Metro and Metro East.
The St. Clair County Health Department says it routinely tests mosquitos during the summer months and had two positive test results in June. The health department tells News 4 it provides local municipalities with larvicide to treat standing water.
In Missouri, St. Charles says it has not had any positive cases of West Nile Virus but did send more information on the testing done in the county:
St. Charles County Department of Public Health's Division of Environmental Health and Protection staff are hard at work combatting mosquitos. Homeowners are encouraged to join in the effort to eliminate the pests before they become a nuisance and potentially spread disease.
"Mosquito control is a year-round effort, but during warmer months, when they are most active, we ramp up our work to proactively treat for mosquitos and respond to requests and concerns," says Ryan Tilley, Division Director of Environmental Health and Protection.
Homeowners play an important role in reducing the mosquitos in their community as well, says Tilley. Because mosquitos mostly stay within a few miles of their breeding site, denying them access to standing water they use for breeding can make a big difference in the immediate area, Tilley says.
"Routine cleaning of the gutters on your house is the number one thing residents can do to help, as well as addressing any other standing water," Tilley notes. "Unused pools, bird baths, and water features without running water can all become habitat for mosquitos if they aren't regularly cleaned."
In 2022, County staff covered 239 miles spraying pesticides for adult mosquitos, in addition to 103 hours spent treating mosquito breeding habitats with larvicide. Tilley says the most effective way to reduce mosquito numbers is to eliminate or treat pools of standing water where they breed.
"Targeting developing larva in the water has the greatest impact and is more environmentally friendly than spraying," says Tilley. "When choosing where to apply larvicide, we look for standing water in publicly accessible areas, like drainage ditches or retention ponds, particularly in areas that have a history of high activity."
When adult mosquitos become a major nuisance or threat to public health in an area, Division staff use truck-mounted pesticide sprayers to reduce the population in that area. St. Charles County Mosquito Control services are provided in unincorporated St. Charles County and contracted for Augusta, Cottleville, Dardenne Prairie, Flint Hill, Lake Saint Louis, Portage des Sioux, St. Paul, Weldon Spring, Weldon Spring Heights, and Wentzville. Residents of those areas can go online to sccmo.org/mosquito and click the "Notify Staff of Mosquito Concerns" link to request services.
The cities of O'Fallon, St. Charles and St. Peters operate their own mosquito control programs. Residents of those cities should contact their respective city halls for treatment concerns.
You can find more information from the CDC here.
Copyright 2023 KMOV. All rights reserved.