Cardinals draftee Mathews threw 156 pitches for Stanford in Super Regional win last month
St. Louis selected 6-foot, 5-inch left-hander Quinn Mathews in the fourth round of the MLB Draft Monday.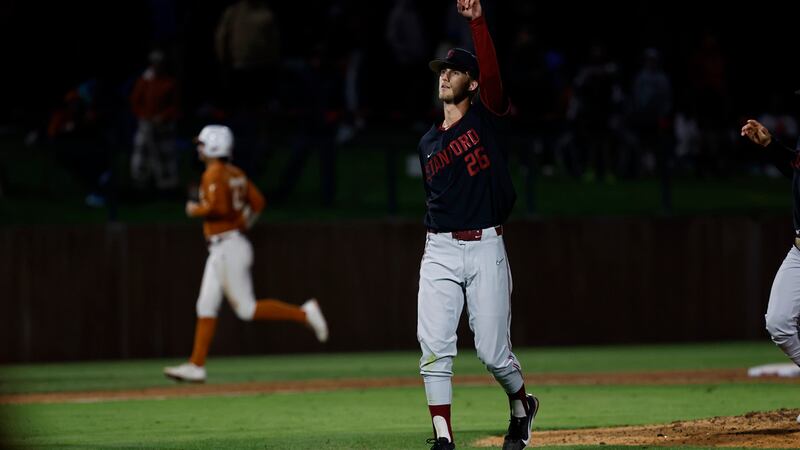 Published: Jul. 10, 2023 at 3:12 PM CDT
ST. LOUIS, Mo. (KMOV) - When Quinn Mathews heard his name called in the fourth of Monday's MLB Draft, it wasn't the first time his name made headlines this summer.
The Cardinals' newest pitching prospect drew national attention last month when he threw a 156-pitch complete game in a collegiate baseball game for Stanford University. Mathews' eyebrow-raising pitch count came in a June 11 win over Texas in Game 2 of the Stanford Super Regional as the 22-year-old starter helped push the Cardinal to an appearance in the College World Series.
A lanky left-hander listed at six-foot, five inches tall, Mathews posted a 3.75 ERA in his senior season at Stanford, posting 158 strikeouts in a career-high 124.2 innings pitched. But his most prominent moment of the campaign was the one that came in that matchup against Texas, as Mathews displayed the type of tenacity on the mound that should simultaneously enthrall old-school Cardinals fans while also calling attention to the perception of injury risk associated with such a seldom-seen pitch count.
Mathews later described the process of convincing Stanford head coach David Esquer to leave him in the ballgame for the final out in the ninth inning during a mound visit of which the left-hander seemed to want no part.
Mathews became the first pitcher drafted by the Cardinals in this 2023 draft, following the selection of Arizona outfielder Chase Davis in the first round Sunday night and Boston College outfielder Travis Honeyman in the third round earlier Monday. The Cardinals forfeited their second-round pick to the Cubs as compensation for the off-season free-agent signing of catcher Willson Contreras.
Copyright 2023 KMOV. All rights reserved.