Though necessary, Liberatore demotion is the latest consequence of Cardinals' puzzling decision-making
The Cardinals had to start somebody under less-than-ideal circumstances after Saturday's doubleheader, but choosing Liberatore for Wednesday was the latest in a long line of puzzling decisions by the club in 2023.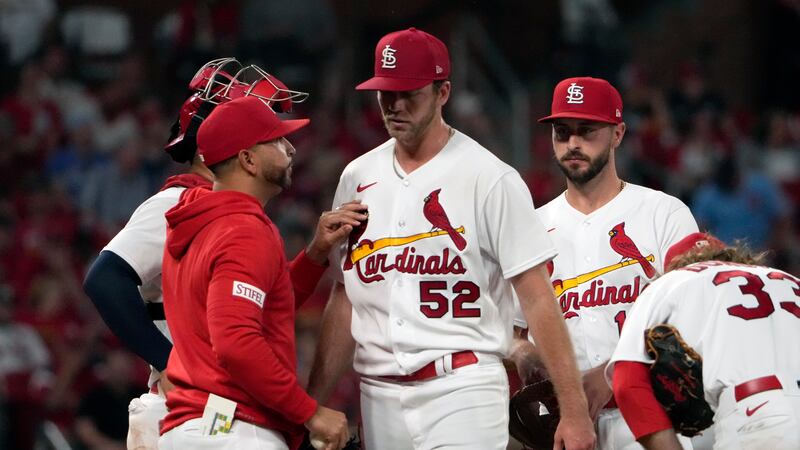 Published: Jul. 6, 2023 at 3:28 PM CDT
ST. LOUIS, Mo. (KMOV) - In a trend that has plagued the Cardinals for a number of years by this point, another promising young Cardinal pitcher is heading the wrong way on the Memphis shuttle after a disappointing stint in the bigs.
The Cardinals announced Thursday that they have optioned Matthew Liberatore to Triple-A Memphis following a woeful performance Wednesday in which the left-handed starter recorded just one out while allowing four earned runs in a loss to the Marlins. St. Louis has selected the contract of Kyle Leahy, who will make his big-league debut on the mound when he appears for the Cardinals for the first time.
The demotion of the 23-year-old Liberatore, who came to the Cardinals from Tampa in exchange for outfielder Randy Arozarena in 2020, is the latest example of St. Louis' shortcomings in developing young pitching talent. The Cardinals, whose yearning for starting pitching help has come like clockwork each July in recent memory, have simply not been successful in developing pitching prospects into starting rotation mainstays.
Jack Flaherty is perhaps the best recent example, but his checkered health history and present performance make the notion of a long-term contract dubious. With Liberatore, a former first-round draft pick whose pedigree was such that the Cardinals would jettison a future Rookie of the Year Award winner to land him, the Cardinals are at risk of again squandering a young pitcher's promise.
This marks the second season in a row that has seen Liberatore, a former Top 50 prospect, largely flame out in his MLB opportunities. Posting a 6.75 ERA in 32.0 innings across nine appearances since mid-May, it's a harsh reality that Liberatore ultimately did not succeed in his latest big-league stint. But it's also factual to point out that Oli Marmol and the Cardinals didn't give the young lefty much of a chance to do so when the team opted to run him out to the mound in Miami on short rest Wednesday.
The Cardinals articulated the decision based on Liberatore's limited workload in starting the early game of Saturday's doubleheader. Liberatore threw only 56 pitches in that affair, so the Cardinals weren't concerned about using him to kick off Wednesday's game on three days' rest.
It was the kind of explanation that sounded nice in theory⁠—even plausible coming from the mouth of the St. Louis manager.
But when you step back to realize the various inconsistencies between what the Cardinals have said made sense in the moment versus what has ultimately played out during this three-month stretch of confounding baseball in St. Louis, the choice to rush Liberatore (and his 5.68 ERA at the time) back into game action never should have passed the smell test.
The Cardinals have rendered curious decisions with even more puzzling explanations regularly throughout this season:
-Forcing two-time Gold Glove left fielder Tyler O'Neill into center field to begin the year despite the eye test revealing his suspect instincts in the role
-Sidelining Willson Contreras from catching duties merely five weeks into the $87.5-million man's first season in town, but remaining tight-lipped regarding the reason behind the move
-Insisting Adam Wainwright is healthy before turning around less than a week later to reveal that he's, naturally, been dealing with physical limitations throughout his recent run of poor performances
The above is far from a comprehensive list, but it's enough to paint a picture of a team with messaging and communication issues that have mirrored its last-place standing in a division that was thought to have been particularly attainable coming into the year.
While it's impossible to know whether Liberatore would have used this summer as a launching pad toward becoming a consistent force in a starved Cardinals' rotation even with a more delicate handling of his workload. As Marmol has repeated several times during his team's spiral, at some point, it's up to the players to go out and perform—it's a reasonable sentiment.
Still, it's hard to look back on the Liberatore saga and connect the dots on what the Cardinals were thinking.
Despite making eight starts during his time with St. Louis this year, Liberatore never did experience two consecutive starts spaced a standard five days apart. And Wednesday certainly wasn't the first time this season that the Cardinals got cute with his schedule.
After announcing he would be involved in a six-man rotation during an especially grueling stretch of the calendar beginning May 17, the Cardinals wavered back and forth on his role multiple times over the days that followed.
The team ended up deploying Liberatore on short rest as a reliever on May 21, defending the decision by explaining that he would have thrown a bullpen session that day anyway, so it made sense to throw those pitches in game action for a bullpen that was stretched thin at the time.
Of course, the bullpen was only stretched thin because of the team's own decision to pursue a six-man rotation in the first place, leaving one fewer eligible arm available among the relief corps. It's as though decisions have consequences.
The Cardinals have piled up enough questionable ones to leave the once-stable franchise staring upward at the notion of rock bottom.
Copyright 2023 KMOV. All rights reserved.