IT'S TAYLOR TIME! A list of Eras Tour must-knows for the big day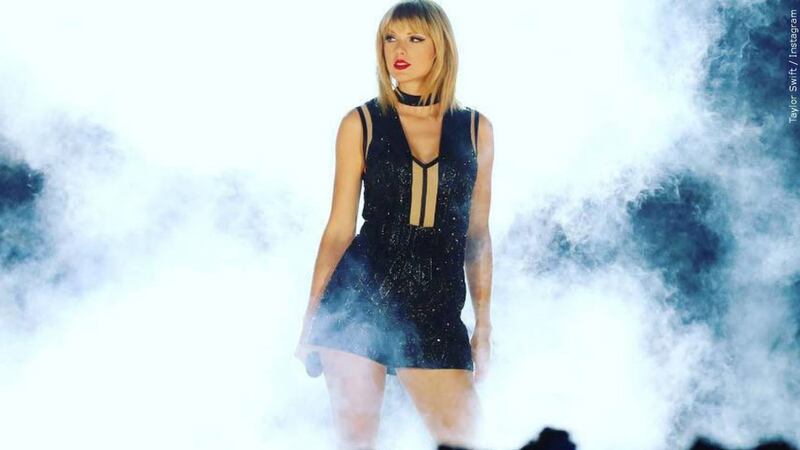 Published: Jul. 6, 2023 at 9:48 AM CDT
|
Updated: Jul. 6, 2023 at 11:00 AM CDT
KANSAS CITY, Mo. (KCTV) - It's "Taylor Swift Week" in Kansas City and it would be an understatement to say people are getting excited. With attendance for both nights expected to surpass 100,000 fans, if you scored a ticket to the festivities it's time to make sure you're ready for it.
Swift will be performing two shows at GEHA Field at Arrowhead Stadium—one on Friday, July 7 and the other on Saturday, July 8. Both events start at 6:30 p.m. with special guests MUNA and Gracie Abrams as openers.
What to Bring
Bags
The GEHA Field at Arrowhead Stadium bag policy must be followed. Any items that are not on the list below (including clear fanny packs or backpacks) are not allowed and will have to be returned to a vehicle or left outside the stadium.
One 12″ x 6″ x 12″ clear plastic bag

One-gallon, clear, plastic freezer bag (Ziploc® bag or similar).

Small clutch bags that do not exceed 4.5″ x 6.5″, with or without a handle or strap, may be carried into the stadium along with one of the clear bag options.

An exception will be made for medically necessary items after proper inspection.
Permitted Items
The following is a short list of common items that are permitted into the stadium. Be sure to double-check the full list here.
Blankets (carried in over the shoulder)

Banners, signs and flags that are no larger than 3′ x 5′

One 20-ounce, sealed, factory water bottle

Portable chargers (no larger than 6″ x 3″ x 1.5″)

Binoculars without the case

Small still cameras under 6″ without the case (no professional cameras with large lenses are permitted)
Friendship Bracelets
A hallmark of the Eras Tour has been fans making (or buying) friendship bracelets to trade with other concert-goers during the show.
There's also an entire section of the r/TaylorSwift Reddit thread dedicated to sharing and decoding the lyric-based or inside joke acronyms put on the bracelets. What could "SCTUPMITF" possibly mean? "Screaming, crying, throwing up, punch me in the face," obviously.
It may be a little late to start mass-producing bracelets in time for Friday or Saturday night, but last minute supplies can be picked up in any local craft section. Some ideas for the bracelets are to base them on themes from the different Eras, use quotes from Swift, make acronyms of her lyrics, or reference the location and date of the specific concert.
Merch Money
Concert merch is bound to be more expensive than an everyday t-shirt, but Swift's merchandise seems to be reasonably priced. The following prices were found in pictures of the traveling merch truck at previous concerts.
T-Shirt: $45

Long Sleeve Shirt: $55

Quarter Zip Pullover: $65

Hoodie: $75

City-Specific Poster: $30

Tour Bracelet: $35

Tapestry: $35

Midnights (The Late Night Edition) CD: $10
Most of the items available in person from the merch truck can also be purchased online, but they may not be specific to Kansas City or have the same *feeling* as they will after waiting in line for hours. Here are the times the truck will be available:
Early Merchandise Opportunity: On Thursday, July 6 access to the parking lots at the Truman Sports Complex is free and open to the public. The parking lots will open at 8 a.m. and the merchandise truck will be open from 10 a.m. to 7 p.m. All guests will be asked to follow signage and staff direction to a designated parking location. No overnight parking or queueing will be permitted.
Event Day Merchandise: On Friday, July 7 and Saturday, July 8 the merchandise truck will only be open to guests with parking passes for the respective day (Friday or Saturday), as well as tickets to that day's show. The truck will be open from 2:30 p.m. During the concerts on Friday and Saturday, merchandise can also be found at more than 15 locations inside GEHA Field at Arrowhead Stadium.
What NOT to Bring
Prohibited Items
The following is a short list of common items that will not be permitted into the stadium. The full list is extensive, so be sure to double-check it here.
No glass, plastic, or metal reusable water bottles or thermoses

No food, beverages, or coolers (only 20-ounce, sealed, factory water bottles are permitted)

Only medical/COVID masks or religious face coverings are allowed, no other masks are allowed.

No clothing or personal items that could impede the view of those around you

No animals- only certified disability service animals (not ESAs)

No noise-making devices such as air horns or bells

No professional or commercial cameras/photography equipment, video cameras, GoPros, audio recording devices, or tripods. Only personal cell phones are permitted to take video or audio recordings.
Fake Tickets
Be incredibly careful about buying tickets online and be sure to only purchase them from reputable ticket re-sale websites such as Stub Hub, Seat Geek, or Vivid Seats. Sellers requesting payment through Venmo or Cash App should not be trusted and if money is lost through those apps to scammers, it will not be refunded.
It may be tempting to believe in the goodwill of strangers online, but scammers are happy to take advantage of people that are desperate for tickets. The Lenexa Police Department reported just over a week ago that a Kansas City local lost $1,000 to scammers. Block or ignore accounts that were clearly created 30 seconds ago and are claiming to have tickets for sale below face value.
Cash
All concession stands and retail points of sale are completely cashless. In addition to traditional scan and chip reader options for credit/debit cards, all fixed points of sale offer mobile tap or scan payment options, including Chiefs Pay, Apple Pay, Google Pay and Samsung Pay. In-stadium vendor stands are credit card only.
Parking at Arrowhead Stadium
Standard Parking
Parking for Arrowhead Stadium must be purchased ahead of time and costs $47 for a regular vehicle or $120 for a bus.
When purchasing a parking pass, be sure to reserve the correct night and think twice if you're considering "Taylor-gating." Although tailgating is allowed before the concert begins, Arrowhead Stadium policy prohibits fans from staying in the parking lot once the show has started. It is unclear how the policy will be enforced, but "access to the complex is for ticketed guests only."
Ridesharing and Other Vehicles
Rideshare vehicles that are not staying and parking must enter through Gate 2 for pick up and drop off in Lot J.
Arrowhead Stadium Accessibility
There are accessible entrances to the stadium available for guests who require accommodations.
Floor Entry: Guests with mobility needs will need to enter the GEHA Gate on the southeast side of the stadium for floor access. Guests will need to obtain their floor wristband and take the tunnel down to the floor level, as this is the only accessible entryway to the floor.
General Entry: All other guests are advised to view "Accessible Gates" and "Elevators" here for more information about entry and access to GEHA Field at Arrowhead Stadium.
Additional accommodations for inside the stadium, such as accessible seating and sign language interpreters, may be available as well.
Accessible relocations are available on a first-come, first-serve basis and are not guaranteed. Starting June 26th, please reach out to fanexperience@chiefs.com for more information on any available relocation options.
Should guests require a sign language interpreter, please reach out to fanexperience@chiefs.com as soon as possible. Relocations to this designated area will occur on or after June 26th upon request.
What to Wear
The average Swiftie has probably had their outfit chosen for months, so KCTV5 will leave the fashion recommendations up to individual taste.
Do pay attention to the forecast, though, and remember that it will be hot and humid until the sun sets around 8:45 p.m. (welcome to Missouri).
Otherwise, drink plenty of water, consider bringing sunscreen, don't forget to pause the scream-singing while you're taking videos, and have an incredible time dancin' all night.
More information about the two-night event can be found at chiefs.com.
Copyright 2023 KCTV. All rights reserved.