Wainwright, Knizner to IL in flurry of Cardinals roster moves Wednesday
Pitchers Dakota Hudson, Zack Thompson and catcher Ivan Herrera will join the Cardinals in Miami.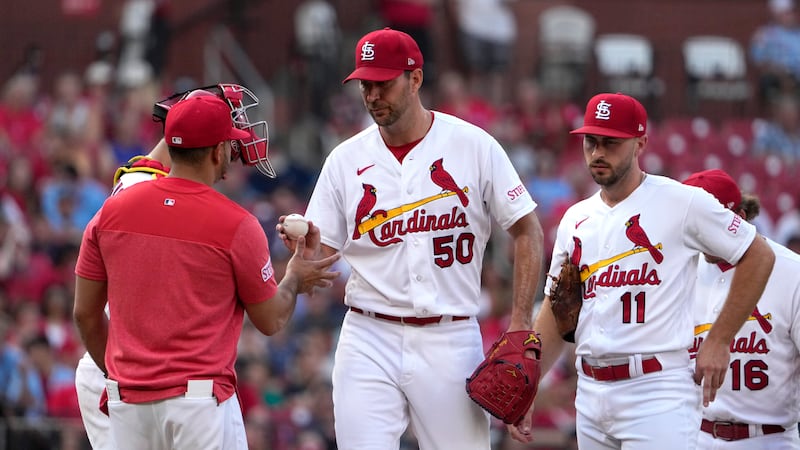 Published: Jul. 5, 2023 at 11:23 AM CDT
ST. LOUIS, Mo. (KMOV) - As the Cardinals sink further into the abyss of the National League Central standings, the team placed multiple players on the injured list Wednesday, leading to a flurry of roster moves.
After enduring his third consecutive troubling outing on Tuesday, Adam Wainwright landed on the injured list Wednesday with a right shoulder strain. Catcher Andrew Knizner joined him after he was injured by a deflected foul ball in Tuesday's 15-2 loss to the Marlins. Knizner was officially labeled by the team as dealing with a groin injury; he was sent to the emergency room for a brief period Tuesday night before reportedly returning to the team hotel later that evening.
The Cardinals also optioned reliever James Naile to Memphis Wednesday after he was tagged for eight earned runs in 1.1 innings pitched in a relief appearance Tuesday.
The reinforcements for the St. Louis roster come in the form of Dakota Hudson, Zack Thompson and Ivan Herrera. Both Hudson and Thompson had been serving in starting roles at Triple-A, making both candidates for starting opportunities in St. Louis in the days ahead as the Cardinals look to fill the rotation spot vacated by Wainwright.
Herrera will fill Knizner's spot in a catching tandem with Willson Contreras. After a short stint in St. Louis last summer, Herrera has put together a strong Triple-A campaign this season. The 23-year-old catching prospect has compiled a robust .308/.432/.557 batting line in Memphis this season.
Copyright 2023 KMOV. All rights reserved.