'Under Pressure' Fundamentals evade Cardinals yet again in another loss to Reds Sunday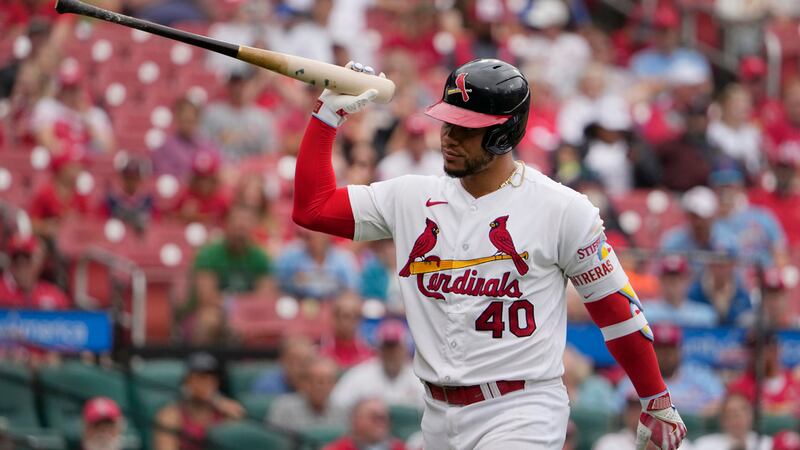 Published: Jun. 11, 2023 at 6:06 PM CDT
ST. LOUIS, Mo. (KMOV) - When the Reds promoted Elly De La Cruz just a few days before their series against the Cardinals at Busch Stadium, you figured he was going to be a problem.
The prized shortstop prospect is a tantalizing talent because of his ability to impact the game in so many different ways. He showed why on Sunday as the phenom took advantage of the faulty fundamentals of the 2023 St. Louis Cardinals.
Cardinal pitching handed out three walks in Sunday's game, which isn't necessarily an overly alarming total. The problem: two of the free passes were issued to De La Cruz, who used his elite speed to turn those bases on balls into the tying and go-ahead runs as the Cardinals fell to the Reds 4-3 on Sunday at Busch Stadium.
Entering Sunday, Adam Wainwright had pitched into the sixth inning in four of his six starts this season without ever completing that fateful sixth frame. It happened again Sunday as Wainwright lost De La Cruz on a full-count pitch in the sixth to put the wheels in motion for another premature exit.
De La Cruz stole second base and moved up to third on a deep flyout before Wainwright was needled again by the type of ill-timed soft contact base hit that has become registered trademark stuff for the veteran in 2023. Tyler Stephenson blooped a ball to right field to bring home De La Cruz and tie the game, 3-3.
The second of the two De La Cruz walks came in the eighth as the Cardinals loosened up on the fundamentals in numerous ways within a single half-inning. Jordan Hicks' lead-off walk to De La Cruz marked the seventh time on the season that he's walked the first batter he faced in a relief appearance.
In the next at-bat, the Reds played small ball by starting the runner to avoid a double play and advance De La Cruz to second on a grounder to short.
Dropped to a knee to prepare for a slider low and away, Willson Contreras then failed to corral Hicks' pitch when it backed up inside to the right-handed hitting Stephenson. Hicks missed location, and Contreras couldn't adjust to snare it on a passed ball that moved De La Cruz 90 feet closer.
The drawn-in infield for St. Louis was then aligned perfectly for a Stephenson grounder, but the Cardinals whiffed on yet another 'little thing' when Paul DeJong pulled his throw home toward the first-base side of the plate. Rushing to snag the ball and apply a tag with the speedy rookie bearing down, Contreras never did secure the baseball.
For a team whose margin for error has been razor-thin all season, the sequence embodied everything that has brought about the Cardinals' shortcomings in 2023.
"Right now, we do. It's just the reality of it—We have to be perfect to win right now," Cardinals manager Oli Marmol said. "We don't have the luxury of giving up extra outs or making a mistake or walking a guy. That's where we're at, at the moment."
The Reds secured the go-ahead run without the benefit of a hit to send the Cardinals to their 15th one-run loss of the season. St. Louis was 1-for-11 with runners in scoring position for the afternoon and popped out feebly to an infielder on Sunday more times than this reporter could bear to count. For the series, the Cardinals went 2-for-22 with RISP with 25 men left on base.
"There are certain guys in our lineup that feel pretty good and there are certain guys that don't," Marmol said. "It's been difficult to string together quality at-bats in order to produce a crooked-number type of inning. When that's the case, yeah, you've got to play perfect on the other side. You've got to pitch perfect."
Hicks' lapse against De La Cruz was just like Wainwright's in walking the rookie two innings prior—the Cardinals simply could not afford it.
"It kinda seems like there are things that our team has typically executed on and we haven't been able to do that as consistently this year," Tommy Edman said. "And it's probably why we haven't been winning as much."
Starting pitching, relief pitching, timely hitting, base running, and defense. It's been the case for the majority of the season that if a few areas of the club were finding their footing, another element of the team was about to lose its own. The Cardinals are 7-15 in one-run games as a result.
"I think it's just probably feeling pressure," Edman said. "Everyone's trying to do too much. Everybody's trying to get that big hit. Sometimes when you try too hard, it makes you not do as well."
In front of his locker after the loss, Nolan Arenado—whose third-inning RBI triple was a rare bright spot for the Cardinals Sunday— was visibly at a loss to explain the current state of the team. Wainwright didn't have much in the way of new insight, either.
"I don't know how many times we can answer that question without giving you something different," Wainwright said. "We're all very upset about how things are going. We keep showing up and expecting it to be different and it keeps not being different."
Wainwright also didn't push back on his manager's assertion that the team basically needs to 'play perfect' in order to find wins at present—and he's right not to. The way they're playing, the Cardinals aren't good enough in any one area to make up for the deficiencies in another. But to see two of the team's most prominent leaders acknowledge this feeling tells you the vicious cycle it creates is pervasive in the St. Louis dugout.
Feeling the pressure for perfection in a game built on failure only seems to beget more failure for the Cardinals.
Copyright 2023 KMOV. All rights reserved.