Vrana scores 1st with St. Louis as Blues beat Sharks 4-2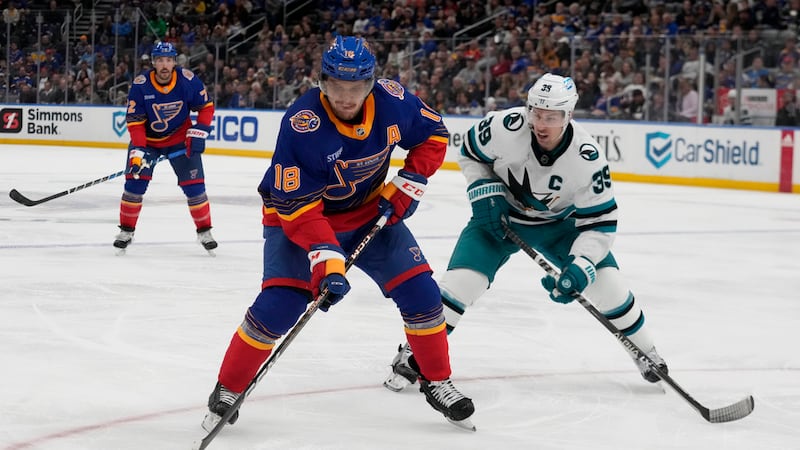 Published: Mar. 10, 2023 at 8:47 AM CST
ST. LOUIS (AP) — Jakub Vrana scored his first goal with St. Louis and highlighted the Blues' 4-2 victory over the San Jose Sharks on Thursday night.
Vrana made his debut with the Blues in Tuesday night's 6-2 loss at Arizona. He was acquired from the Detroit Red Wings in exchange for for Dylan McLaughlin and a 2025 seventh-round pick on March 3.
"Overall, this group is awesome," Vrana said. "It's nice to get that win at home too, the first win. It felt good."
Robert Thomas, Sammy Blaise and Torey Krug also scored for the Blues. Jordan Binnington made 32 saves in his 50th start of the season and improved to 1-5-2 in his last eight starts.
The Blues have two wins in their last nine games, both against the Sharks. St. Louis is 3-0 against San Jose this season and 8-0-0 against the Sharks since Nov. 19, 2021.
Blues coach Craig Berube was happy with the win. However, there's a lot to be done.
"There's really good signs of good things. But I'd like to see more. I'm maybe too demanding," Berube said with a chuckle. "But like tonight, I just want to see more urgency and intensity at the start of a game."
Tomas Hertl and Erik Karlsson scored for San Jose. Kaapo Kahkonen made 26 saves and slipped to 1-5-0 against the Blues in his career. The Sharks fell to 2-9-1 their past 12 games.
Vrana poked in the puck from the side of the net at 2:53 of the third period, giving St. Louis a 3-2 lead. Pavel Buchnevich, who had two assists, sent it to the post and Vrana was there to tap it past Kahkonen, where it caromed off Karlsson for the goal.
Berube likes what Vrana brings to his team.
"He looks to shoot. He's got some good hands, good skill with his hands," Berube said. "He skated better tonight than he did last game for me."
Thomas scored on the power play at 15:02, making it 4-2. The Blues' power play went 1-5 in the game and is 3 for 40 since the Ryan O'Reilly trade on Feb. 17. All three power-play goals came against the Sharks.
Each team scored one goal in each of the first two periods. St. Louis went up 2-1 when Blais scored at 10:06 of the second. Colton Parayko dove on the ice and poked a loose puck ahead for Blais, who scored with a high shot on a breakaway.
A turnover by Calle Rosen let San Jose come back to knot it at 2. Hertl scored on a snap shot at 14:31.
Karlsson scored on a wrist shot at 10:30 of the first period that beat a screened Binnington. A turnover by Thomas in the Blues' end began the play that ended with Karlsson's 20th goal this season. St. Louis tied it at 1-all on a goal by Krug at 12:31. Thomas raced down the right wing with the puck and passed back to the trailing Krug in the slot. It was Krug's first goal since Dec. 1.
The Sharks didn't convert any of their four power-play chances.
"Our power play was struggling here with Timo (Meier) before he got traded," coach David Quinn said. "It's frustrating. We need to get more pucks on the net. It's really that simple. Nobody likes a simple answer, but sometimes that's what it comes down to." ICE CHIPS
The game marked the only time this season the Blues wore their 1990s red and blue vintage jersey inspired by the sweaters worn by Brett Hull and Chris Pronger. ... Vrana is one goal shy of 100 for his NHL career. ... Hertl is one goal shy of 200 in his NHL career.
INJURIES
Sharks: D Jacob MacDonald (undisclosed) day to day; LW Andreas Johnsson (upper-body injury) day to day.
UP NEXT
Sharks: Host Wild on Saturday night.
Blues: At Blue Jackets on Saturday night.
Copyright 2023 KMOV. All rights reserved.