Dillon Dube scores twice, Calgary rolls past St. Louis 4-1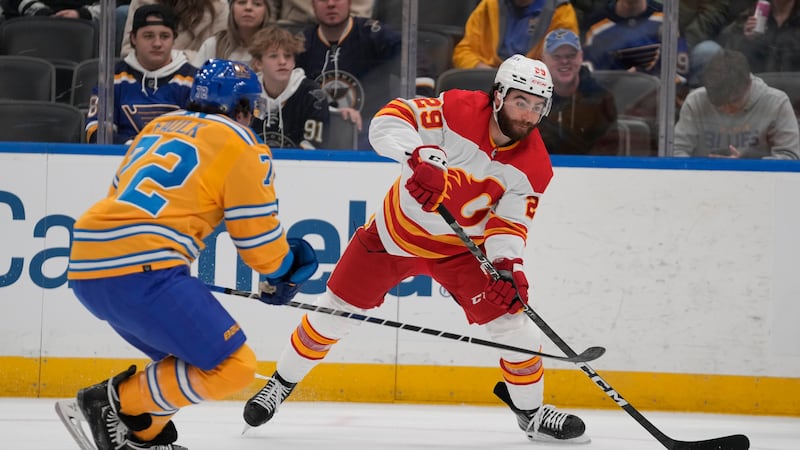 Published: Jan. 12, 2023 at 10:06 PM CST
ST. LOUIS (AP) — Dillon Dube scored twice in the third period and Dan Vladar made 25 saves to help the Calgary Flames to a 4-1 win over the St. Louis Blues on Thursday night.
Dube broke a 1-all tie, scoring with 9:10 left in regulation and added an empty-netter in the final minutes. Blake Coleman pushed the lead to 3-1 with his eighth goal of the season with 3:56 left.
Walker Duehr's first NHL goal broke a scoreless tie and gave Calgary the lead in the second period.
Calgary has recorded points in 16 of its last 19 games.
Jake Neighbours scored for St. Louis, which had won eight of its last nine against the Flames, including a 4-3 overtime decision on Tuesday.
Dube picked up a loose puck in the slot and broke a 1-all tie with his eighth goal of the season. He scored into an empty net with 3:21 left.
Duehr took a pass from Nazem Kadri late in the second period and wristed a shot past goalie Thomas Greiss, who had stopped 61 successive shots over his last three games. Nazem Kadri set up the goal with a pinpoint pass on a 2-on-1 breakout.
Duehr was called up over the weekend and made the second start of his career on Tuesday. He played in one game for the Flames in 2021.
Vladar, who wears No. 80, improved to 7-4-4 this season.
Kadri was booed throughout the game. Last year, as a member of the Colorado Avalanche, he collided with St. Louis goalie Jordan Binnington in Game 3 of a second-round playoff series and ended Binnington's season.
The Blues are without Vladimir Tarasenko (hand) and Ryan O'Reilly (foot) for four to six weeks.
SIGHTSEEING
Calgary coach Darryl Sutter and his staff went to see the Budweiser Clydesdale horses on a day off in downtown St. Louis on Wednesday.
EXTRA DUTY NOT SO FUN
The Flames lead the NHL with 12 overtime games. They lost to Chicago in OT on Sunday before dropping a 4-3 extra-session decision to the Blues on Tuesday. The Flames are 2-6 in OT periods and 1-3 in shootouts.
UP NEXT
Flames: Continue a five-game trip in Dallas on Saturday.
Blues: Face Tampa Bay on Saturday in the third of seven successive home games.
___
AP NHL: https://apnews.com/hub/nhl and https://twitter.com/AP_Sports
Copyright 2023 KMOV. All rights reserved.