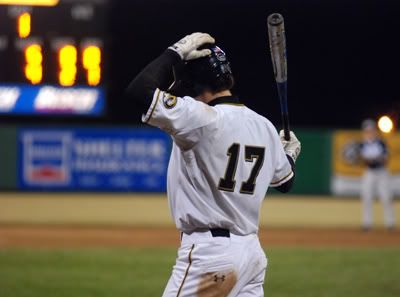 After a marathon 13-inning 7-6 win last night, Missouri will try to clinch the three-game weekend series at a soggy Taylor Stadium this afternoon. Tim Jamieson will send Nick Tepesch to the mound for today's game.
Tepesch has struggled in his three starts this year, barely striking out two batters for every one he walks. He's allowed 14 runs (13 earned) in 16.1 innings so far this year.
The rest of the lineup for Missouri goes as follows:
Brannon Champagne CF
Russell LaFleur LF
Aaron Senne 1 B
Andreas Plackis DH
Brett Nicholas C
Jonah Schmidt RF
Eric Garcia 2B
Andrew Thigpen 3B
Jesse Santo SS
It's interesting to see Nicholas getting the start at catcher today. He's a natural catcher but has played third most of the year while Ryan Ampleman has been behind the plate.
But Ampleman had a bad game yesterday, airmailing two throws down to second on attempted stolen bases while not doing much at the plate. He's hitting .133/.316/.167 on the year with only one extra-base hit in 30 at-bats, so maybe a little rest will allow him to clear his mind and get back on the right track.
Top 1—Xavier quickly gets on the board on a John McCambridge double and a Ben Thomas two-out RBI single. Thomas poked a slider from Tepesch up the middle, just barely getting the ball past Jesse Santo and Eric Garcia.
----
Tepesch just got drilled in the back by a comeback line drive. He made the throw to first to end the inning, but he ran off the field like he just took a punch to his lower back.
A couple of pitchers have jogged down to the Missouri bullpen, so that's not a good sign.
Top 2—Tepesch is done for the day—Kelly Fick is on the mound for the top of the second. Fick hasn't allowed a run in five innings of work this year, striking out four and walking one. He'll be expected to eat up a lot of the early and middle innings of this game, especially with Missouri's bullpen shoulding a pretty big workload yesterday.
Bottom 3—One time through the order, Missouri is without a hit. Xavier lefty Tommy Shirley has done a great job hitting his spots with his upper-80's fastball and offspeed stuff so far.
Kelly Fick delivers a pitch in the top of the second inning.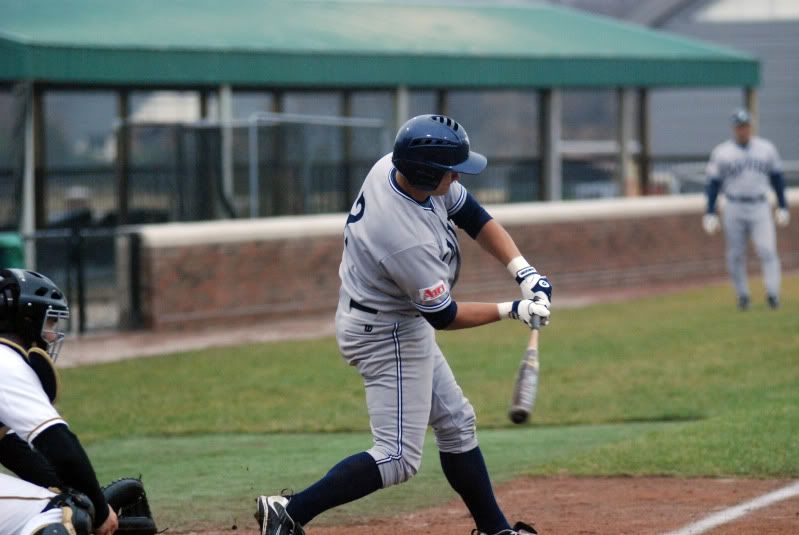 Xavier left fielder Daniel Rod strikes out on a pitch from Kelly Fick in the top of the second.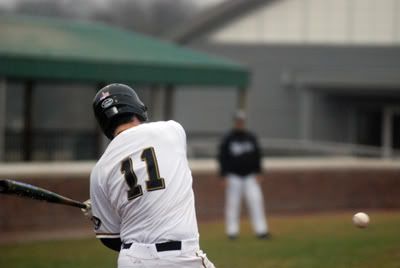 Brett Nicholas grounds out in the bottom of the second.
Bottom 4—Russell LaFleur breaks up the perfect game with a single to right. Shirley had retired the first 10 batters he faced to that point.
-----
After a single by Aaron Senne, Shirley walks Aldreas Plackis on four pitches. He's run into some control and command issues ever since going to the stretch—which aren't uncommon when a pitcher goes to the stretch for the first time in a game after throwing from the windup for a couple of innings.
-----
A sacrifice fly by Brett Nicholas that scored LaFleur just put Missouri on the board, tying the game at one.
Top 5—Fick has cruised his four innings of work so far. He's allowed just three baserunners so far today, keeping the ball down and changing speed to get a lot of ground ball outs.
Also, spotted in the stands is AD Mike Alden. He's wearing sweat pants, which I don't think you'd see him wearing at a basketball or football.
Bottom 6—Missouri takes the lead on a RBI single by Brett Nicholas. Tommy Shirley threw the ball well today for Xavier, holding Mizzou to just four hits and two runs (so far).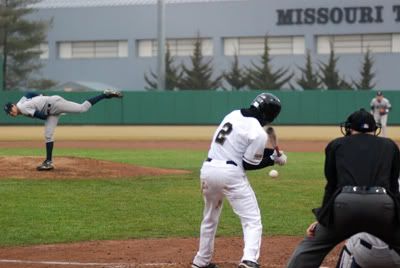 Russell LaFleur grounds out to begin the bottom of the sixth.
Aaron Senne takes a pitch in the bottom of the sixth.
Brett Nicholas connects for a go-ahead RBI single in the bottom of the sixth. Nicholas' hit gave Missouri its first lead of the game.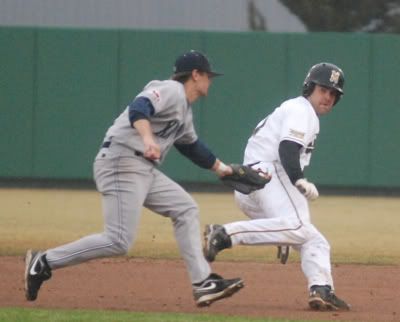 Nicholas is tagged out by Xavier second baseman Drew Schmidt after trying to advance to second on his hit.
Top 7—Kelly Fick finally is pulled from the game after giving Missouri 5.2 great innings of work. Ryan Clubb entered the game with runners at the corners and two outs and got Missouri out of the jam.
Bottom 8—With the game tied at two, Dane Opel breaks out of a 0-12 slump with a go-ahead two-run single to center on a 3-2 pitch. That's a huge hit for the freshman.
Now the question becomes this: who closes the game for Missouri? There's nobody warming in the bullpen right now and Phil McCormick was on the mound to end the top of the inning, so it might be him.
Top 9—Nevermind, it's Tyler Clark. Mike Liberto has entered the game at shortstop, Jesse Santo moved to third, and Andrew Thigpen to second. Stay tuned to see if Missouri can hold on and clinch the weekend series.
-----
Clark gets a strikeout, walk, strikeout, and groundout to nail down the save and give Missouri the 4-2 victory.