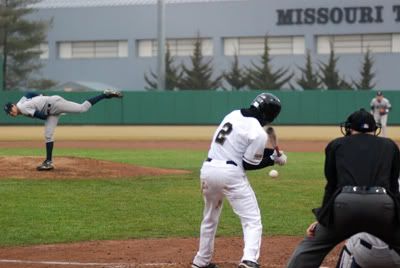 On another cloudy, rainy day at Taylor Stadium, Missouri will look to pick up a weekend series sweep of Xavier (1-12). JuCo transfer Aaron Blunt will take the mound for Missouri in his debut in Columbia.
The lineup goes as follows:
LaFleur LF
Brown CF
Senne 1B
Nicholas 3B
Schmidt DH
Garcia 2B
Opel RF
Ampleman C
Liberto SS
Top 1—Xavier gets on the board early after some sloppy play by Missouri. An bad throw by Liberto that Senne couldn't scoop at first base allowed Xavier leadoff hitter Drew Schmidt to get on base and he advanced to second on a throwing error on an attempted pickoff by Blunt.
Schmidt then advanced to third on a balk by Blunt and scored on a double down the line that was just out of the reach of Nicholas at third.
Bottom 1—LaFleur begins the inning with a walk, which seems to be par for the course for Xavier starter Jon Richard. Entering the game, Richard had issued 15 walks in just 13.1 innings. He nearly has a 2:1 walk-to-strikeout ratio. Yikes.
-----
After Brown hit into a double play, Missouri mounted a two-out rally as Senne singled to right, Nicholas was hit by a pitch, and Schmidt walked. I just mentioned how Richard has had problems throwing strikes this year, and, well...that hasn't changed so far today.
-----
Somehow, Richard gets out of the inning unscathed—he got Garcia to fly out deep to right on a 3-2 pitch.
Even though Missouri didn't score in the inning, unless Richard starts throwing strikes and gets some swings and misses, MU should have no problems scoring today.
Top 3—Xavier pushes another run across on Michael Liberto's second bad throw of the day. He fielded a routine ground ball at short and threw low to Aaron Senne at first base, who was unable to scoop the bad throw for the second time today. It's not Senne's fault—obviously, the error was charged to Liberto—but he also didn't get in front of the ball, allowing it to trickle past him into foul territory, allowing the run to score.
Liberto's error was the third in three innings for Missouri's defense.
Second inning photos:
Xavier's Daniel Rod flies out in the top of the second inning.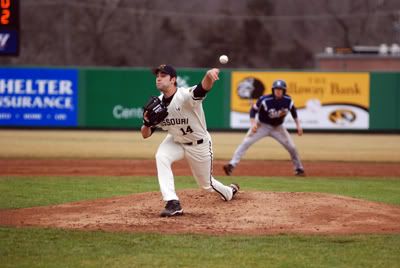 Aaron Blunt delivers a pitch in the top of the second.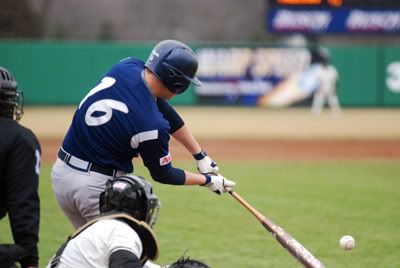 Xavier's Patrick Paligraf connects with a pitch from Aaron Blunt in the top of the second.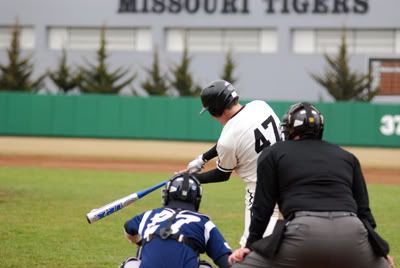 Dane Opel fouls off a pitch in the bottom of the second.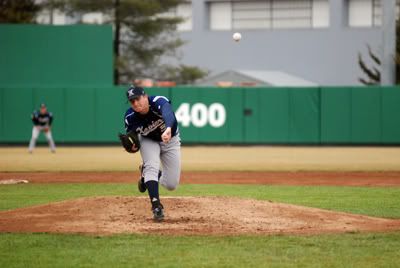 Xavier's Jon Richard delivers a changeup to Dane Opel in the bottom of the second.
Bottom 3—Ah, the baseball jinx. Richard has shut down Missouri in the last two innings after struggling so mightily in the first. The only baserunner he's allowed in the last two innings was a two-out walk to Aaron Senne in the third. He's getting a lot of ground balls—which, for a guy who doesn't get a lot of strikeouts, is the easiest way to get outs.
Bottom 5—Missouri looks caught in between being aggressive and being patient right now, and that's a bad place to be. A couple of players talked about being more aggressive after yesterday's 4-2 win, but with Richard's control issues coming into this game, a more patient strategy would seem to be better.
Blunt has kept his team in the game, though, and two runs is hardly an insurmountable deficit.
Top 6—Blunt is pulled from the game with a 1-1 count with one out and a runner on second. That's a very odd time for him to come out of the game—hopefully he's not hurt. He wasn't throwing a great game by any means, but he was pitching effectively after some sloppy play early in the game.
Brad Buehler is in for Missouri now.
-----
The final line on Blunt: 5.1 IP, 5H, 2R, 0ER, 2BB, 2K, 1WP, 1HBP, 85 pitches.
Top 7—Xavier's picked up two more runs on an RBI single and double off Zach Hardoin, who came in to the game in relief of Buehler.
Phil McCormick then game into the game and gave up a RBI double on a slow ground ball down the first base line. It's now 5-0 Xavier.
More photos: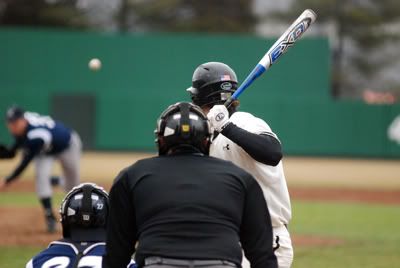 Aaron Senne takes a pitch from Xavier's Jon Richard in the bottom of the sixth.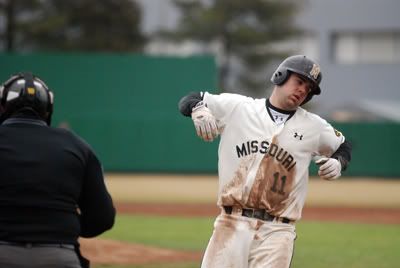 Brett Nicholas turns to jog to first after drawing a walk in the bottom of the sixth. He was the first Missouri batter to reach base since Senne drew a walk in the third.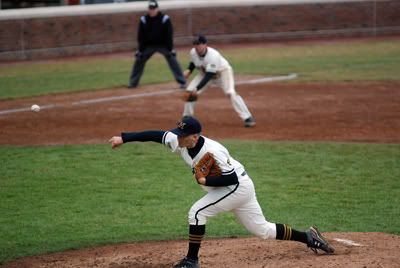 Brad Buehler delivers a breaking ball in the top of the seventh.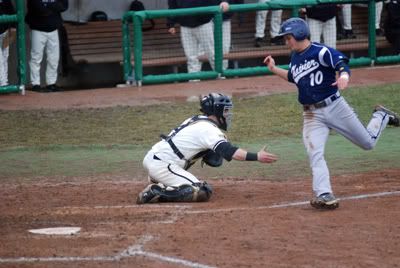 Xavier's Drew Schmidt dodges catcher Ryan Ampleman to score Xavier's third run of the game in the top of the seventh.
Bottom 7—Richard's day is done, as he is lifted after six solid innings in favor of Seth Willoughby. It's tough to imagine Xavier expecting a better start from Richard, who allowed just one hit in his six innings of work. His walk total was still high, but he was able to prevent any damage from coming from those walks.
Top 8—A couple of changes for Missouri: Jeff Scardino is pitching, Brannon Champagne is in center, and Kale Gaden is catching.
Bottom 8—Outside of a Brett Nicholas walk, Missouri still has nothing going offensively. Through eight innings, the team has one hit.
Bottom 9—A two-out double by Kale Gaden gives Missouri its second hit of the day. That double was followed by a Michael Liberto walk and a Russell LaFleur single to drive home the Missouri's first run of the game with two outs in the ninth.
However, the rally ended when Brannon Champagne grounded out back to the pitcher to end the game. Had Champagne reached, it would've set Aaron Senne up for a chance to tie the game with a home run.
Missouri's loss drops them to 7-6 on the year.