Lineups
Missouri State (18-24)
SS Travis McComack
CF Aaron Conway
2B Kevin Medrano
LF Keenen Maddox
DH Tyler Paxson
RF Christian Overstreet
3B Curt Courtwright
1B Tyler Ryun
C J.C. Casey
P Blake Barber (1 start, 4.15 ERA, 12 BB/24 K in 26.0 IP)
Missouri (23-19)
SS Michael Liberto
LF Ryan Gebhart
1B Aaron Senne
3B Brett Nicholas
CF Dane Opel
RF Jonah Schmidt
2B Eric Garcia
DH Scott Sommerfeld
C Ryan Ampleman
P Tyler Clark (1 start, 3.91 ERA, 6 BB/29 K in 23.0 IP)
Top 2—Tyler Clark loads the bases with nobody out and then promptly gets out of the inning Orlando Hernandez-style, getting a popout, strikeout, and strikeout to get out of the jam. Clark got a pretty generous call from home plate umpire Tim Winningham on a 1-2 fastball to strike out J.C. Casey to end the inning, but obviously, Clark will take it.
Top 3—Kevin Medrano picks up his teammates' bases-loaded failure from the second with a long two-run home run to right off Clark. Medrano entered the game with a 1.052 OPS and 14 home runs, so his home run shouldn't come as too much of a surprise.
Top 4—Missouri State takes a 3-0 lead on a solo home run by Christian Overstreet off Jeff Scardino that just barely cleared the left field wall.
Through one time in the order, Missouri has struggled with Blake Barber. However, this is just Barber's second start of the year—don't be surprised if Missouri gets to him a second or third time through the lineup.
Bottom 4—Brett Nicholas extended his hitting streak to 19 games with a line shot three-run home run to right-center that tied the game up at three.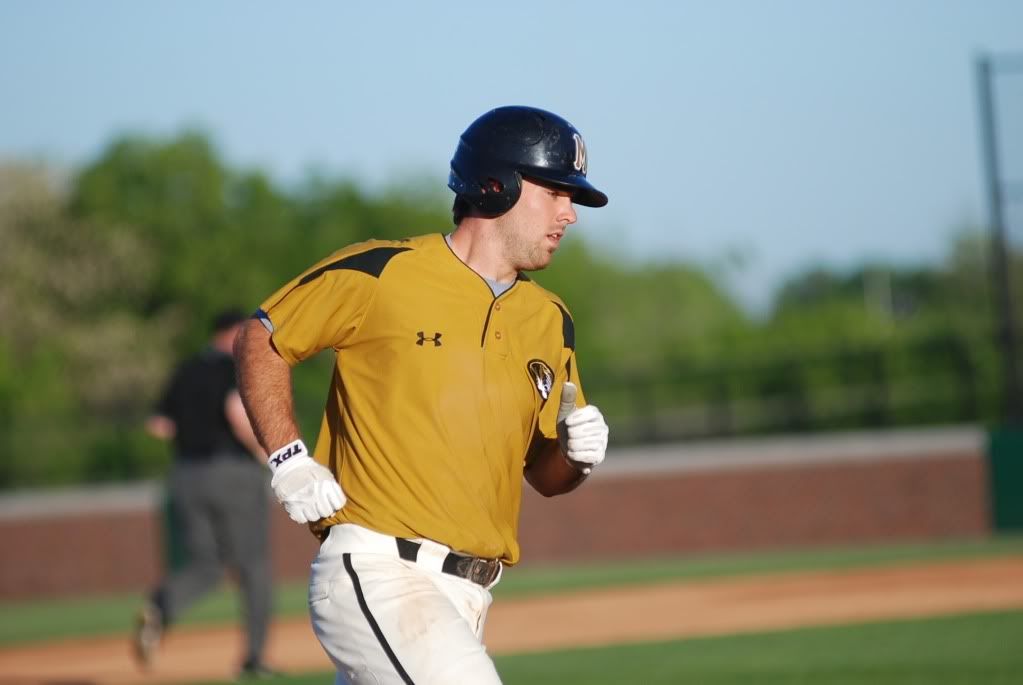 Brett Nicholas rounds third after his three-run home run in the third inning.
Missouri didn't stop scoring after the Nicholas home run, either. After Ryan Ampleman was hit by a pitch (he leaned into it, but it was a perfectly legal play), Michael Liberto took a 2-1 pitch into the left field corner for a two-run double to put Missouri up 5-3.
Missouri ended up batting around in the inning, although Ryan Gebhart struck out looking with runners on second and third to end the frame.
Top 5—To say the ball is jumping today at Taylor Stadium would be an understatement. Aaron Conway's solo home run off Jeff Scardino easily cleared the bullpen in left field—it had to be one of the longest home runs I've seen hit at Taylor Stadium this year.
The blast moved the score to 5-4 in favor of Missouri.
It also knocked Jeff Scardino out of the game for Ryan Clubb, who allowed back-to-back singles to Keenen Maddox and Tyler Paxson before giving up a game-tying double to Christian Overstreet.
Missouri State loaded the bases with one out when Curt Courtwright hit a chopper to Brett Nicholas at third with men on second and third. Nicholas threw home to Ryan Ampleman, who chased Paxson back to third but threw too late, allowing Paxson to slide safely back to the bag. Tyler Ryun followed that with a sacrifice fly to center to give Missouri State the lead back at 6-5.
Clubb struck out J.C. Casey to end the inning. With the ball jumping the way it has today, that one run lead is certainly not safe.
Bottom 5—And just like that, Jonah Schmidt ties the game up with an RBI single through the left side.
Through the first three innings of the game, only two runs were scored. In the last two, there have been 10 runs scored.
Bottom 6—Missouri takes a 9-3 lead thanks to RBI singles by Michael Liberto and Ryan Gebhart and a fielder's choice by Aaron Senne. Still, with three innings to go, there's a lot of baseball to be played tonight.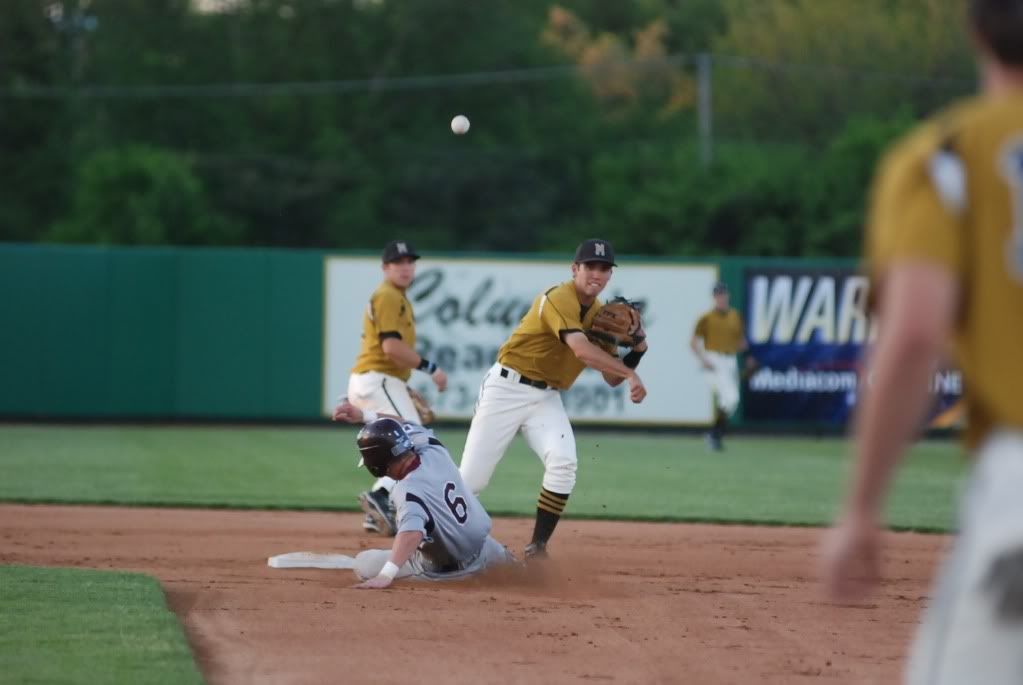 Eric Garcia turns a double play in the top of the sixth.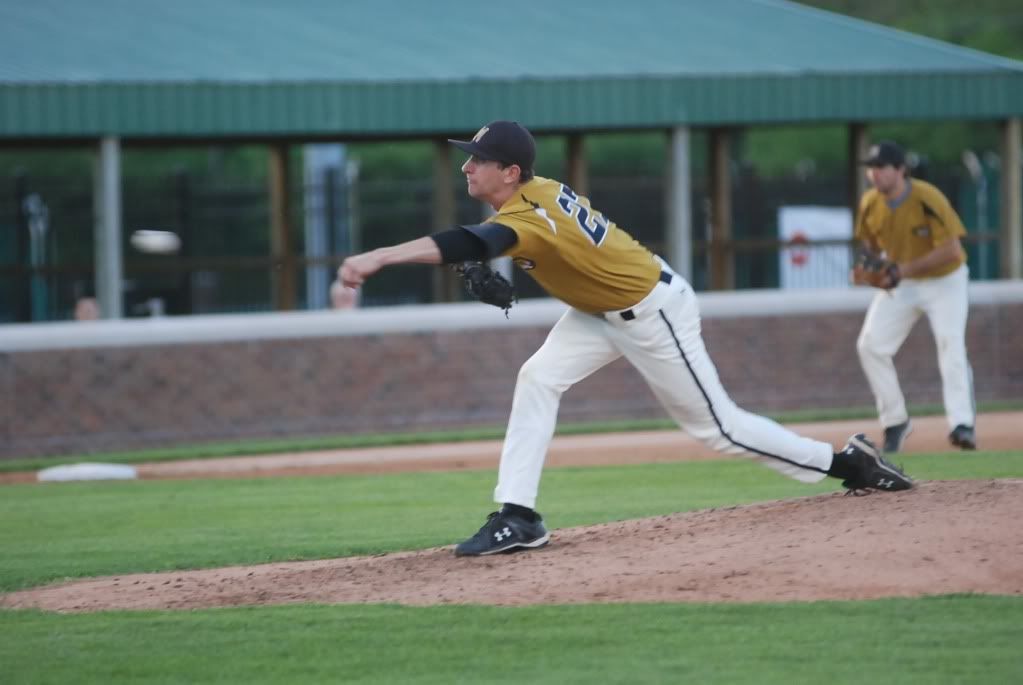 Phil McCormick delivers in the top of the sixth.
Ryan Ampleman walks to first after being hit on the head with a pitch in the bottom of the sixth.
Scott Sommerfeld (49) is congradulated by teammates after scoring the Missouri's go-ahead run in the bottom of the sixth.
Bottom 7—Missouri tacks on an insurance run on a Scott Sommerfeld two-out single. That's big—although, as the night has gone on, the ball has carried less.
Bottom 8—Not to put a jinx on Missouri, but it looks like they have this one in the bag. A two-out wild pitch by Missouri State reliever Sean Toler allowed Michael Liberto to score from third to put Missouri up 11-6.
Top 9—Phil McCormick nails down the win for Missouri, which improves to 24-19 on the season.